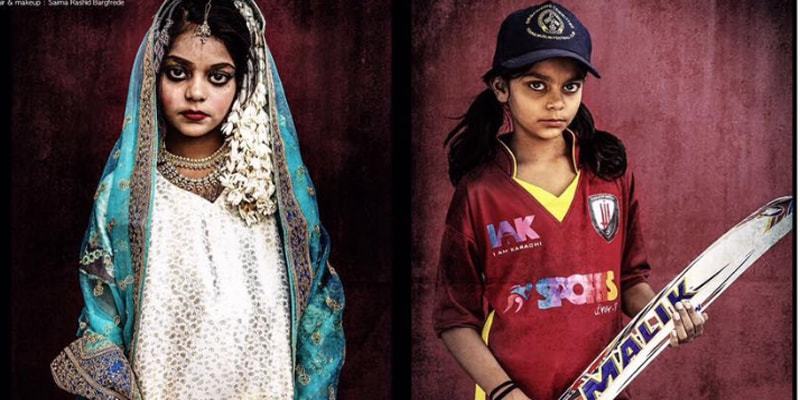 Waqar J Khan strikes again with latest photo shoot about child marriage in Pakistan and we're stunned!
Child marriage is one of the prevailing issues of Pakistani society but it is also the one which is least talked about. Conversations about this topic are not given importance and are often swept under the rug. As stated by SPARC statistics, the estimation suggests that 24% girls get married before the age of 18 in Pakistan.
But there do exist people who care enough to send out strong and thought provoking messages about social causes that are too often ignored. Waqar J Khan is the new face for change. Posted on the internet this Thursday, he collaborated with Muhammad Haseeb Siddiqui for photography and Saima Rashid Bargfrede for styling and makeup.
The powerful images features under aged girls from Orangi Town who are originally athletes. The creative team behind the campaign wanted to send out a strong message not only about child marriages, but also highlighting the importance of women engaging in sports in Pakistan.
The images show a striking contrast between the girls dressed as child brides and the same girls dressed in sporty attire. "The fashion shoot has the concept of showing the aggression and sadness on their faces as brides and on the other hand they are powerful and confident as sports players and have courage to face the world", stated Waqar.
The striking difference highlights what girls are truly capable of but are not considered as an important part of the society and due to cultural norms, meet with an ill-fate and are married off before the legal age of marriage which is 16 according to Pakistan's law.
Last year, Waqar J Khan and Haseeb joined forces and worked for a fashion photo shoot with Kami Sid, the representative of the transgender community of Pakistan and the photo shoot was met with rave reviews and applauded globally for bringing forward the third gender which is ridiculed and looked down upon in our society.
Read more: Pakistan Empowers The Transgender Community Through Fashion
In recent years many Pakistani designers have taken to social causes and highlighted them in their fashion campaigns and such initiatives not only make the audience engage but also create awareness and better able the masses to work for a better society.