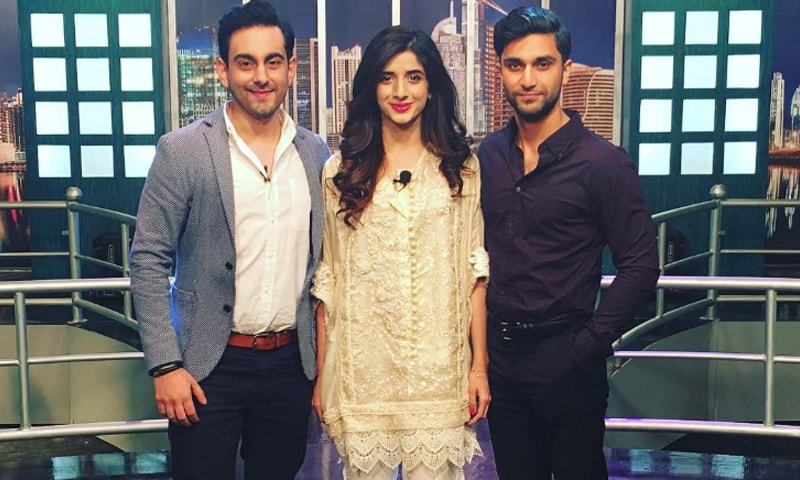 While we were looking forward to this episode, we must admit that it was Ahad Raza Mir who stole the spotlight!

Sammi not only caught our attention for its thought-provoking storyline but also because of the star-studded cast. Apart from Mawra Hocane, who made her television comeback with this drama, it was Ahad Raza Mir and Bilal Khan's debut that had us excited too! The sixth episode finally introduced us to the handsome boys and their characters, and we'll have to say, we're very impressed.
Despite dealing with a serious issue, Sammi has all the right ingredients to keep the audience engaged. Writer Noor ul Huda Shah's script is only getting stronger and more interesting with each passing episode with the actors proving that they're made for their respective roles.
Before we share our views about Ahad and Bilal's entry, let's talk about the progress that took place in Sammi this week.
Read : HUM TV's 'Sammi' has the potential to be the 'Udaari' of 2017!
With Sammi left in Karachi with Rashid's old friend (Sania Saeed), she is now getting a hang of working in a beauty parlour. She's getting paid for the work she does and settling in which makes us happy to see her finally take a little charge of her life for a change.
She still has her emotional breakdowns but the beauty parlour owner pushes her to be brave and makes sure that she develops some confidence to fight life.On the other side, Sammi's mother is just seen cursing her for ruining her son's life! Quite ridiculous we know but that is how people still think in remote villages.
It's not just Sammi's mother who is on a cursing spree, Rashid's ( Adnan Siddiqui) mother played brilliantly by Seemi Raheel is also still cursing his wife for having daughters.
We are also introduced to Naheed (Nadia Afgan) who is involved in a relationship with a guy named Ghulam Rasool who the villagers despise because his parents abandoned him after birth.
While the drama has been focusing on the Vani system and having daughters, right there, it also talked about how judgemental we are of people or rather children who don't come from sound backgrounds or whose parents disown them after birth. But with Naheed not worried about his background, she urges him to ask her brother for her hand. Knowing he will be rejected, Ghulam Rasool tell her how they can never be together but upon Nasheed's insistence agrees to send a proposal.
Read : Hum Tv's Sammi is one of Adnan Siddiqui's best performances so far!
With the story moving at a steady pace, it was wonderful to finally see Ahad Raza Mir make his entry as Salaar who happens to be the son of the beauty parlour owner. The episode also marked the entry of Bilal Khan who essays the role of Aalyan (Naheed's nephew).
Salaar is a happy go lucky character who is captivated by Sammi as soon as he sees her. However, he doesn't try to make her uncomfortable and tries to offer all the support he can. His mother, on the other hand, tells him to keep a bit of distance.
The episode ends with a meeting between Rashid and Ch Nawaz's wife; she wants reassurance that he won't give in to her husband's pressure and offers him money. Now, the twist in the tale is that Rashid's mother happens to be passing by and sees her making the deal. Will she blackmail the wife for more money? Well, knowing that she's one cunning woman, we know she's going to be up to something!
Mawra Hocane continues to play Sammi well! She is a pro when it comes to expressions which makes us connect with her character even more! Nadia Afgan is a talented actress and it's great to see her be part of a play like this while Sania Saeed and Adnan Siddiqui are always a treat to watch.
The one person who blew us away was Ahad Raza Mir! He made his presence felt as soon as he graced the screen, which came as a surprise since this is his first drama ever. Well, like father like son! Talent runs in his blood and we cannot wait to watch more of him!
Bilal Khan is new to acting but his first attempt was not bad either! We are hopeful that with each passing episode, he too will impress!
So with Ahad Raza Mir making his entry as Salaar, and Sammi moving ahead in her life, we cannot wait to find out what happens next! The drama contines to be on the top of our must watch list!