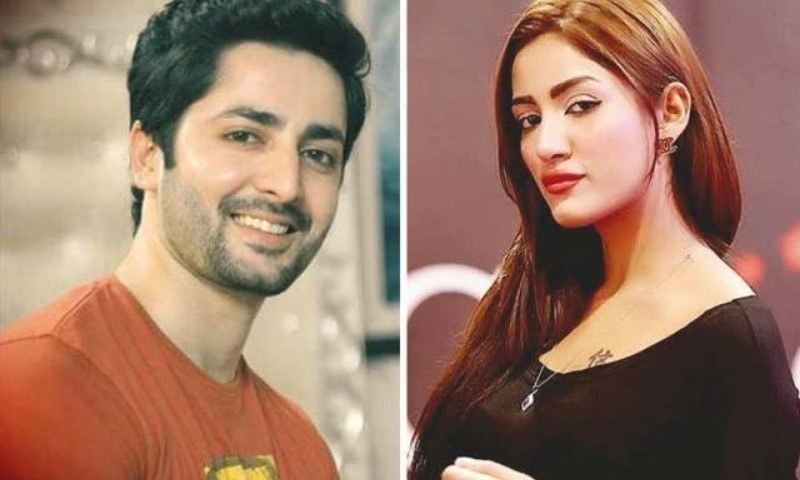 The trailer was only bearable because of some good music and Danish Taimoor.

We have been hearing about Sangeeta's directorial venture Tum Hee Ho for ages now! We had earlier reported that it will be releasing in December 2016, though that never materialized, we now have some good news for you. Other than finally revealing a release date the makers have also released its trailer which honestly speaking is only bearable because of Danish Taimoor.
Distributed by Geo Films, Tum Hee Ho besides Danish Taimoor also stars Mathira, Sajid Hassan, Saim Ali, Sangeeta herself, Ghana Ali and Quratulain. With us having viewed the trailer recently the one thing which we really liked was its music especially Rahat Fateh Ali Khan's song which is soulful and something we can listen to on repeat. One thing which we are in fact looking forward to is listening to the movie's complete playlist whenever it gets released.
Read : Danish Taimoor's 'Tum Hi Tou Ho' all set to release this Eid
Talking about the trailer itself, it was impressive as such because the loud and noisy background score reminded us of the Pakistani movies of the 90s. Danish Taimoor looks good mind you, his acting and expressions are all top notch so with him playing a romantic lead maybe Tum Hee Ho becomes a hit with the masses. Another person who will be seen gracing the screen is Mathira who looked too plastic and fake and revealed a bit too much of herself making us think that whether this is going to be suitable for viewing with family or not?
Written by Suraj Baba, who was also wrote Ishq Positive we are hopeful that once the movie releases we might get to see an interesting plot and since Sangeeta is a well-known director perhaps the full movie is far better than the trailer! What is good to see is that Sangeeta has used Pappu Samrat to choreograph the dances which is a nice initiative as it was him who used to be the main man for dances back in the good old days of Lollywood.
Verdict: So, with Tum Hee Ho releasing on 14th April, 2017 we are looking forward to watching it but only for Danish Taimoor.