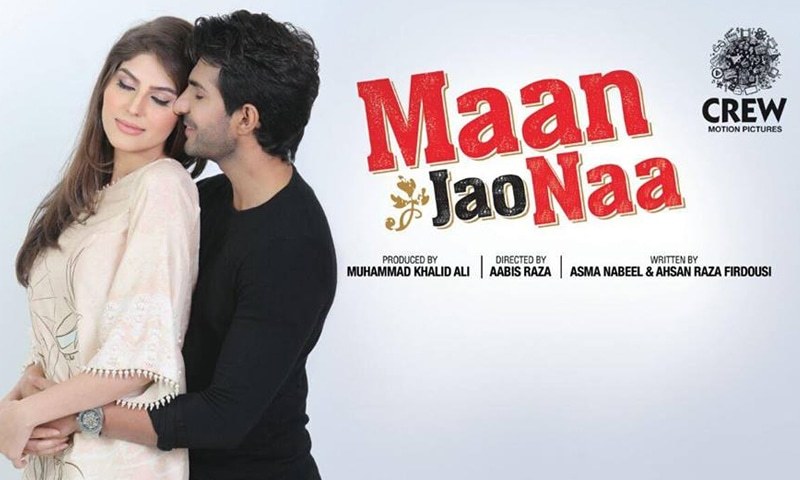 This rom-com will mirror the attitudes and responses of today's youth to love and relationships.

Maan Jao Na, the first ever project to come out of the Crew Motion Pictures mill, happens to be one of the most awaited movies of this year. This light-hearted romantic comedy movie will mirror the attitudes and responses of today's youth to love and relationships.
The movie has been produced by Mohammad Khalid Ali, directed by Aabis Raza and co-written by Asma Nabeel and Ahsan Raza Firdousi.
Maan Jao Na is a story based on the struggles of a group of friends and their transition from a carefree university life into the realms of the practical world.
HIP recently got in touch with Ayaz Samoo once again, to get an insight on the movie this time.
Read: HIP exclusive: Ayaz Samoo talks about his upcoming film Maan Jao Naa
"It's a story of a mixed group of friends and I play one of them. My character's name is Asim who is actually a fun loving guy. Asim is funny but he is one of the serious mature guys who is serious about the bond he shares with his friends. He always works to resolve issues, the go-to person of the entire group and always acts as a bridge amongst the friends," revealed Ayaz Samoo while talking about his character in the film.
And that's not it, Ayaz further gave us fun facts and behind the scene information regarding Maan Jao Na,
"We had a beach sequence that we had to shoot on Hawksbay. Imagine how cold it was this year and quite fortunately, the days we shot the sequence, the temperatures were at their lowest. And the best part, we had to take a dip in the water as well. It was freezing and our actor spirits were at an all-time high," Ayaz told HIP.
"The next day the makers kept us suspended in the air for a complete 6 hours at a whole. We had to shoot a scene where we had to jump from a building. We were on rigs for a stretch of 6 hours and on one occasion we had to stay suspended for 2.5hrs straight without a gap."
"And then came the chase sequence. So one day we were dipped in ice cold water, the next suspended for a high-rise and then we had to keep running for two straight days. The weather was extremely cold and still, we kept running with sweat running down our faces, " Ayaz told us further into the conversation.
Another thing that you need to know about Maan Jao Na is that lead actress and the character of Raania is being played by an Iranian super model and very talented actress Naaz Nourozi.
And that's not it, Ali Gul Pir will also make a special appearance in the movie.
Maan Jao Na stars Adeel Chaudhry, Naaz Nourozi, Ayaz Samoo, Hajra Yamin, Ghana Ali, Asif Raza Mir, Asma Abbass, Naeem Haq and Nayyer Ejaz in significant roles. The cast is fresh and eager to work hard to bring out the best of the script on screen.
With the fun behind the scenes and the facts that Ayaz indulged us with, we can totally say Maan Jao Na is going to be one fun-filled movie, especially for the youth.
Here's wishing the entire cast and crew of Maan Jao Na all the very best!