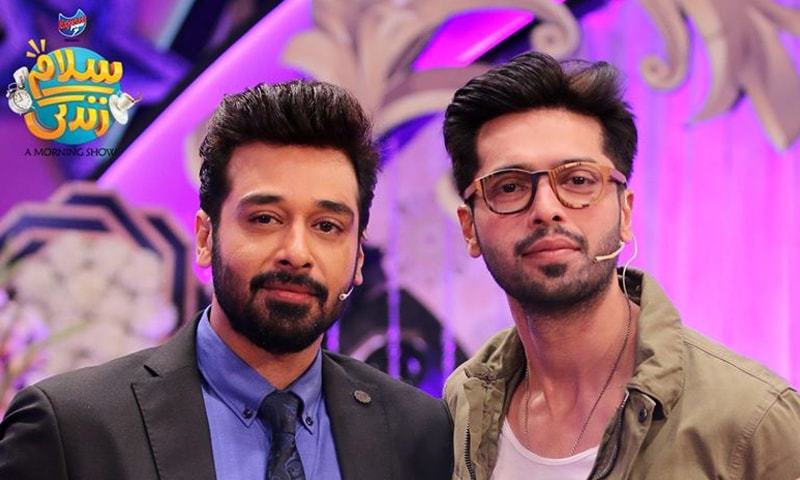 "I want to take people away from the negativity and see what's good around them," Faysal Qureshi on his morning show
If there's one thing which we try to avoid watching are the various morning shows which are currently going on air. However, within the last year, there are certain shows made by channels which actually are bearable and serve as the perfect distraction while one enjoys sipping a cup of tea after sending the kids to school.
While we quite enjoy watching Anoushay Ashraf's Chai, Toast aur Host, another show which has become our favourite is Faysal Qureshi's Salam Zindagi which recently completed its first anniversary. It seems like yesterday when Qureshi had returned to host a morning show.
Hosted by Faysal Qureshi along with Sherry and Faizan, Salam Zindagi offers that warmth and excitement which is lacking in other shows. Qureshi's expressions come across as natural throughout the show and during his interaction with the audience. While interacting with the callers, Qureshi is fun and quirky which makes the show a pleasant watch for viewers.
Read: Salam Zindagi Welcomes Nasir Khan Jan and Waseem Sheikh
Not every episode in the past year has been all fun and games. In fact, the show at times has even become emotional making it quite difficult for us to hold back the tears. We simply can't forget one particular episode which went on air after Junaid Jamshed had passed away in a tragic plane crash along with 47 other passengers. Qureshi along with Waseem Badami shared their touching stories with the viewers that made us realise how different the show is from the rest of the pack. It carries with it that personal bond that the viewers have formed with Qureshi.
We were naturally quite excited to sit down and watch the show with enthusiasm and we loved every moment of it. We couldn't stop smiling till the credits rolled,
Distinguished celebrity guests including Ally Khan, Hassan Ahmed, Sunita Marshal and Fahad Mustafa popped in to congratulate the team. One sweet gesture was of Faysal Qureshi thanking each and every single member of his team including editors and cameramen. We don't think there was a single person whom Qureshi didn't thank.He also shared some personal messages which reflected his easy-going personality and concern for all his teammates.
Qureshi is a versatile actor and we were initially surprised by his switch to a morning host but he ended up carrying himself off quite well in his new role. In an earlier conversation with HIP when he had just started hosting, we had asked him how he wished to change the trend of morning shows, he was quoted as saying,
"People should feel fresh when they get up in the morning. After watching depressing news headlines before they go to bed, I don't feel they should be presented with bad news and messages in the morning as well. People in Pakistan are already disheartened with the country, as well as their personal day to day problems. I want to take people away from the negativity and show what's good around them."
Read : Faysal Qureshi returns to Morning Shows with ARY's 'Salam Zindagi'
One of the best segments of Salaam Zindagi is the celebrity game Kuch Kaha Kiya. One person wears the headphone and has to guess what phrase the other person is saying- is outrageously funny.
So with Salam Zindagi having completed a year, we at HIP would like to wish its entire team a Happy Anniversary and even more years of togetherness. Here's to more happy mornings!