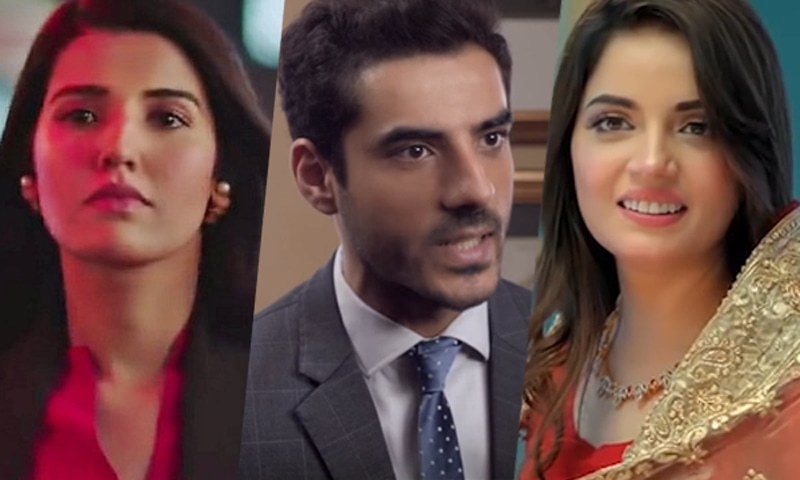 How accurate are these nominations?

Who doesn't love the Lux Style Awards? Well, they're fun, fabulous, glamorous and we at HIP absolutely enjoy watching them! Not only is the night full of entertainment and celebration, celebrities make sure to grace the event aiming to shine the brightest making the red carpet alone, a total treat to watch!
This year marks the 16th Lux Style Awards and while we were hoping it would be an event full of surprises, the biggest shock came in the form of the nominations. YES! The nominations are out, and we're not sure if we really agree with them or not! First Nigar nominations disappointed us and now these! We just do not know what's up with the concerned juries!
We're not complaining much about the fashion, music and television categories but the film nominations are certainly not what we had in mind.
Here is the entire list of nominations:
FASHION
•Model of the Year (Female)
Amna Babar
Anam Malik
Rabia Butt
Sadaf Kanwal
Zara Abid
•Model of the Year (Male)
Aimal Khan
Hasnain Lehri
Jahan-e-Khalid
Shahzad Noor
Waleed Khalid
•Best Fashion Photographer
Abdullah Harris
Ali Hasan
Guddu Shani
Nadir Feroz Khan & Maha Burney of NFK Photography
Shahbaz Shazi
•Best Hair and Make-up Artist
Natasha Khalid
Omayr Waqar
Saima Rashid Bargfred
Shammal Qureshi
Shazia Rashid
•Achievement in Fashion Design – Pret
Coco by Zara Shahjahan
Generation
Khaadi
Sana Safinaz
Sapphire
• Achievement in Fashion Design – Luxury Pret
Mahgul
Sana Safinaz
Sania Maskatiya
Shamaeel Ansari
Shehla Chatoor
•Achievement in Fashion Design – Bridal
Ali Xeeshan
Elan
Faraz Manan
Mahgul
The House of Kamiar Rokni
•Achievement in Fashion Design – Lawn
Elan
Faraz Manan
Sana Safinaz
Shehla Chatoor
Zara Shahjahan
•Best Menswear Designer
Ahmed Bham
Amir Adnan
Hassan Sheheryar Yasin
Ismail Farid
Nauman Arfeen
•Best Emerging Talent
Aashna Khan – Photographer
Giti Ara – Model
Hira Shah – Model
Imaan Madani – Model

The Pink Tree Company – Designer

FILM
•Best Film
Actor in Law
Dobara Phir Se
Ho Mann Jahaan
Janaan
Mah-e-Mir
Cannot complain about the best film category either since all our favourites are pretty much here!
•Best Film Actress
Mahira Khan for Ho Mann Jahaan
Mehwish Hayat for Actor in Law
Sabar Qamar for Lahore Se Aagey
Sajal Ali for Zindagi Kitni Haseen Hai
Sanam Saeed for Bachaana
Mehwish Hayat better win! Also, no mention of Imaan Ali? She was phenomenal in Mah e Mir! Also, Janaan and Dobara Phir Se get nominated for best film but the leading ladies do not even deserve a nomination? How crazy does that sound? The list is truly incomplete without Armeena Khan and Hareem Farooq! Either add their names or replace with the ones less worthy!
•Best Film Actor
Ashar Azeem for Maalik
Fahad Mustafa for Actor in Law
Fahad Mustafa for Mah-e-Mir
Mohib Mirza for Bachaana
Yasir Hussain for Lahore Se Aagey
And how strange is it that the leading actor of two super hit movies, Dobara Phir Se and Ho Mann Jahaan, doesn't get a nomination! Adeel Hussain was quite a charmer in both, we believe! We'd give him an award for just his smile and think it was rude not to add his name to the list! Oh, and what about Hameed Sheikh for Abdullah?
•Best Film Director
Anjum Shehzad for Mah-e-Mir
Asim Raza for Ho Mann Jahaan
Azfar Jafri for Janaan
Mehreen Jabbar for Dobara Phir Se
Nabeel Qureshi for Actor in Law
Wajahat Rauf for Lahore Se Aagey
•Best Supporting Actress
Hania Aamir for Janaan
Saboor Ali for Actor in Law
Sanam Saeed for Dobara Phir Se
Sonya Jehan for Ho Mann Jahaan
Tooba Siddiqui for Dobara Phir Se
What exactly did Saboor Ali do except be the lead's little sister? Sanam Saeed would've been a more appropriate choice here for her role in Mah e Mir.
•Best Supporting Actor
Ali Kazmi for Dobara Phir Se
Ali Rehman Khan for Janaan
Manzar Sehbhai for Mah-e-Mir
Om Puri for Actor in Law
Shehryar Munawar for Ho Mann Jahaan
Thank God they acknowledged Shehryar Munawar's role in Ho Mann Jahaan and Ali Rehman's role in Janaan at least!
•Best Singer (Male) – Film
Arman Malik for Janaan Title Track (Janaan)
Asrar for Funkaran (Actor in Law)
Atif Aslam for Dil Dancer (Actor in Law)
Rajab Ali for Yeh Dhuan (Mah-e-Mir)
Shafqat Amanat Ali for Piya Dekhan Ko (Mah-e-Mir)
What about the male singer for Dobara Phir Se, how unfair to nominate Haniya Aslam in the female category while without Ali Hamza the song would not have been as magical as it is.
And didn't Zindagi Kitni Haseen Hay have the best music? No mention of Sukhwinder Singh?
•Best Singer (Female) – Film
Aima Baig for Kalabaaz Dil (Lahore se Aagey)
Haniya Aslam for Dobara Phir Se (Dobara Phir Se)
Masooma Anwer for Naina Roye (Maalik)
Shreya Ghoshal for Janaan Title Track (Janaan)
Zeb Bangash for Dil Pagla (Ho Maan Jahaan)
No mention of Zindagi Kitni Haseen Hay here either?
MUSIC
•Album of the Year
Book of Sibt by Sibti
Indus Raag 2 by Shareef Awan
Na Bhulana by Uzair Jaswal
Peheli by Mooro
You by The Sketches
•Song of the Year
Baarish by Tonight Us and Jimmy Khan
Haiyyah from The Book of Sibt by Sibti
Khak Nasheen by Chand Tara Orchestra
Khaki Banda by Umair Jaswal and Ahmed Jahanzeb
Saaiyan by Quratulain Baloch
•Best Music Video Director
Abdullah Haris for Sag-e-Ali by Asrar
Aisha Linea Akhtar & Shahbaz Shigri for Le Chaloon by Salman Shaukat
Kamal Khan for Ho Jao Azad by Zoe Viccaji
Kamal Khan for The Desert Journey by D/A Method
Shahab Qamar for Hero by Naseer & Shahab
•Best Emerging Talent
Basit Ali for Vocals in Anokha Ladla
Bilal Nasir Khan (Rudoh) for Tales for Scrap
Hamza Akram Qawwal for Khuddi
Natasha Baig for Janaan
Shehroz Hussain for Sitaar in Anokha Ladla
TELEVISION
• Best TV Play
Besharam on ARY Digital
Dillagi on ARY Digital
Mann Mayal on Hum TV
Main Sitara on TV One
Udaari on Hum TV
•Best TV Actor
Ahsan Khan for Udaari
Faisal Qureshi for Bheegi Palkien
Humayun Saeed for Dillagi
Noman Ejaz for Dampukth
Zahid Ahmed for Besharam
•Best TV Actress
Maya Ali for Mann Mayal
Mehwish Hayat for Dillagi
Saba Qamar for Besharam
Saba Qamar for Mein Sitara
Sajal Ali for Gul-e-Rana
•Best TV Director
Ehtishaamuddin for Udaari
Farooq Rind for Besharam
Haseeb Hasan for Mann Mayal
Kashif Nisar for Dampukth
Nadeem Baig for Dillagi
•Best TV Writer
Faiza Iftikhar for Dillagi
Farhat Ishtiaq for Udaari
Sameera Fazal for Mann Mayal
Sarwat Nazeer for Besharam
Zafar Mairai for Dampukth
•Best Original Sound Track
Sun Yara by Damia Farooq (ARY Digital) (Producer: Six Sigma Productions)
Udaari by Hadiqa Kiyani (HUM TV) (Producer: Momina Duraid, Haisaam Hussain and Shahzad Kashmiri)
Hatheli by Nabeel Shaukat (HUM TV) (Producer: Moomal Shunaid, Moomal Entertainment)
Mann Mayal by Quratulain Baloch (HUM TV) (Producer: Momina Duraid, Samina Humayun Saeed, Tariq Shah, Sana Shahnawaz)
Yeh Ishq by Rahat Fateh Ali Khan (ARY Digital) (Producer: Big Bang Productions)
Read : The highs and lows of 15th Lux Style Awards
We have a few issues here and there, but our main issue is with the ones revolving around the movies. Don't you agree too?
Who are your favourites for this year's big win? Share your comments with us in the box below.