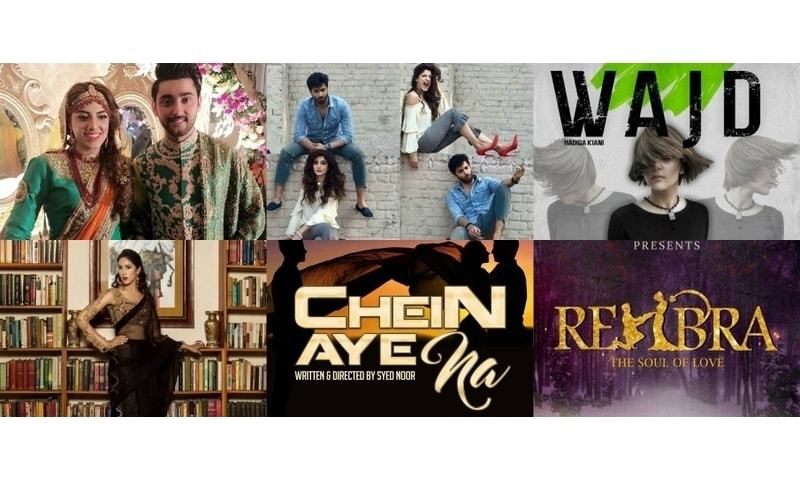 Hollywood and Bollywood might be on top of their social media game, but our celebrities are no less!
It might get a little tiresome to keep yourself constantly updated about your favourtie celebs whereabouts so we did the hard work for you!
Bringing all the latest celeb updates in one feature, here are the top Instagram posts of the week:
1: Abdullah Seja said Qabool hai
Now that we all know who Abdullah Seja really is (hopefully), you will be better able to understand the hype. Abdullah Seja tied the knot this week and the couple looked picture perfect!
Read more: Who Is Abdullah Seja & what is all the chaos about
2: Aye Mehndi ki yeh raat
Last week Amanat Ali tied the knot and this week it was his mehndi and honestly this is one dynamic duo. And let's not forget their regal looks!
3: Sheheryar and Mawra's photoshoot
For a week instagram was abuzz about these two with their sultry and beautiful photographs- It has finally been revealed that the duo was working for a Paperazzi's cover photo shoot and they look stunning.
4: Adnan Siddiqui Bollywood debut
Adnan Siddiqui is ecstatic, excited and emotional- After the pack up of his debut Bollywood movie, MOM, Adnan made several posts expressing his gratitude and sharing the first look of MOM the movie.
Read more: Adnan Siddiqui shares his feelings along with the first look of 'MOM'
5: Chein Aye Na in its closure phase
Sarish Khan and Shahroz Sabzwari are the talk of the town! Shahroz shared that the film is in what he mentioned as 'the last spell' and now we're on our tippy toes to find out more.
6: Mira Sethi's debut
It is official! The Dil Banjaara starrer, Mira Sethi is set to make her debut alongside Mahira Khan and Sheheryar Munawar in Saat Din Mohabbat In. How exciting!
7: Natasha ties the knot
Renowned makeup artist, Natasha from Natasha Salon tied the knot this week. The wedding took place in Dubai and we cannot help but be all praises for the gorgeous niece of Late Madam Noor Jehan. Like grandmother, like granddaughter!
8: Hadiqa Kiani's "WAJD"
Hadiqa Kiani is all set to be back in the music scene with her new album WAJD which is confirmed to be released this month.
Read more: Hadiqa Kiani to embark on a musical journey with her album "Wajd"
9: Iconic ladies in a single frame
Every week, we come across an image that leaves us in awe and such is the case with this one- the multi-talented trio, Sania Saeed, Atiqa Odho and Farah Shah are starring together in a new project named Piyari Bitto guaranteed to captivate the audience.
10: "Rehbra" starring Ayesha Omer and Ahsan Khan
With the revival of Lollywood, actors and directors are super busy with projects one after the other and these two are no different. Starring in an upcoming film, Rehbra Ahsan Khan shared a BTS shot.
It is quite a task to pick the top 10 with so much happening in the media fraternity but we gave it our best shot. We are ecstatic and look forward to all these thrilling new projects that are lined up.