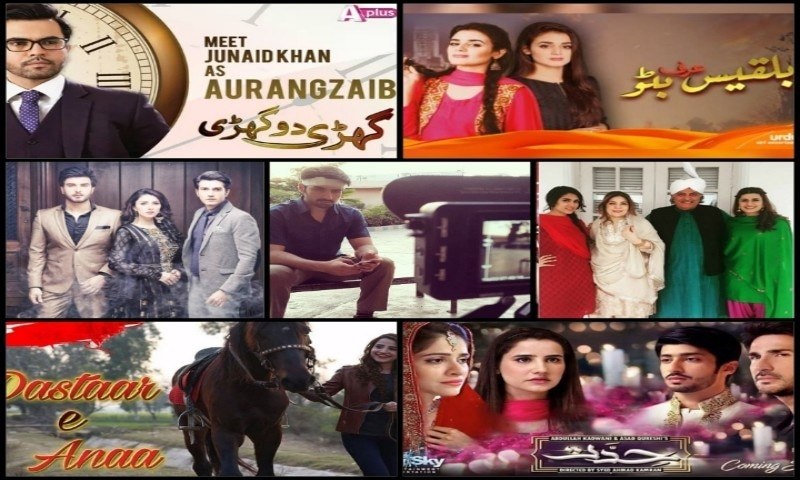 With so many of our favorite dramas already over and some reaching their climax, we wonder what we'll do come the month of April. But guys you don't need to worry much about anything. As always the Pakistani drama industry has a lot of emotion, drama and masala to offer to it's audience at all times.
We have a talented set of actors, directors and producers who are always focused on bringing us some rather interesting content to watch out for. We've explored taboo topics to mature contents and anything and everything else that comes with it. Come April, things will not be different either. So here is a round of some amazing dramas coming your way next month. So gear up and get ready for a roller coaster ride of emotions starting April.
1) Ghari Do Ghari
Starring Junaid Khan, Moomal Khalid, Nausheen Shah and Arslan Butt, Ghari Do Ghari is an intense family drama which will hit your screens on the 1st of April only on A Plus. The drama revolves around individuals and their struggle with relationships, love and power. Nausheen Shah plays Junaid Khan's wife whereas Moomal (a small town girl with honest ambitions) will be his love interest. We can't wait to find out how will this battle of wills and power will unfold and how will true love find a way.
2) Alif Allah Aur Insaan
Talking about the mystic bond with Allah and his creation, Alif Allah aur Insaan will be a social romantic story discovering the trials and tribulations of Nazneen and Shahzeb as they embark on a journey to achieve spiritual evolution. The drama will star Kubra Khan and Mikaal Zulfiqar in the lead roles and will start airing mid-April on HUM TV. Alif Allah aur Insaan has already captured our interests especially because it has Mikaal and Kubra once again after Sang e Mar Mar and we'd love to see how the chemistry unfolds between them this time.
3) Hiddat
Starring Arij Fatima, Adeel Chaudhry, Sania Shamshad and Farhaan Malhi, drama serial Hiddat will focus on a story of Nimra, a young girl from an affluent and traditional family with a heart filled with romance and a confusion when it comes to love. Hiddat will start airing on Geo from the 12th of April. This one we're waiting for because the promos have certainly gotten us all excited. Hiddat is certainly going to be one drama with characters battling mercilessly for their one true love and we'd like to see who wins whom in the end.
4) Muhabbat Tum Se Nafrat Hai
This is one drama serial we're eagerly waiting for and who wouldn't when it's got such a captivating title and the gorgeous Imran Abbas in lead role. Muhabbat Tum Se Nafrat hai will go on air on Geo television from 8th April 2017. The drama has been produced by 7th Sky Entertainment and directed by ace director Farooq Rind. Muhabbat Tum Se Nafrat hai will feature a unique love story and we can't wait to watch it. Muhabbat Tum Se Nafrat Hai is starting in place of Khuda aur Muhabbat and we're waiting to see if this one will capture our interest like its predecessor.
5) Kisay Awaz Doon
Starring Iqra Aziz, Syed Jibran and Muneeb Butt in pivotal roles, Kisay Awaz Doon, will be a story about honor killing- a menace that plagues our society. The drama will focus on the trials and tribulations of a family and a girl named Saba, the youngest daughter, who vows to become strong and defend herself against honor killing when her sister is burnt alive by her own brother. Kisay Awaz Doon, an iDreams Entertainment production will start airing on ARY Digital from April 2017. Our society certainly needs dramas like these and we're eagerly waiting to see if Kisay Awaz Doon will address this one issue that still seems to be going stronger than ever, increasing with every passing day.
6) Bilqees Urf Bitto
Directed by Ahsan Ali Zaidi and produced by Big Bang, Bilqees Urf Bitto is the story of a dynamic girl who has taken upon her fragile shoulders to shun the society's thinking about how girls ought to live. The story will also follow the love and betrayal angle while Bitto starts to explore herself and everything the world has to offer. Bilqees Urf Bitto will star Hira Mani, Fahad Mirza and Noman Masood in lead roles. The drama will start airing from 1st of April on Urdu 1 and we're eager to watch Hira Mani battle it out as a strong woman after playing the fragile Roshani in Sun Yaara. Judging from her strong stint in Preet Na Kariyo Koi, we're guessing Hira Mani certainly has the potential to portray a stronger Bitto just perfectly.
Read: Hira Mani to star in drama Bilqees Urf Bitto
7) Dastaar e Anaa
TV One is gearing up for something major with Dastaar e Anaa. The drama will feature Uzma Gillani, Abid Ali, Shamoon Abassi, Sania Shamshad and Faisal Rehman along with others in prominent roles. The story will revolve around a powerful woman who owns and governs the life of hundreds of people based in her area and has us all revved up because we certainly do love women in strong characters, having everyone on their beck and call. Dastaar e Anaa is all set to air on TV One from the 14th of April
8) Ilteja
Touching upon the topic of Down Syndrome, Ilteja on ARY Digital will show the trials and tribulations of a family when it has disabled children born into it. We really owe it the makers and writers of this particular drama to pick up such sensitive subject matter and bear the responsibility of raising awareness about such a common but hushed issue within our society. Ilteja is all set to air on ARY Digital this April and we're more than excited to see how such a stellar cast including Tooba Siddiqui and Affan Waheed deal with such a tabooed subject on national television.
Read: Ilteja to be aired in April, and it strikes a deep social chord
With this exciting line-up, we are sure to be glued to our TVs throughout April.