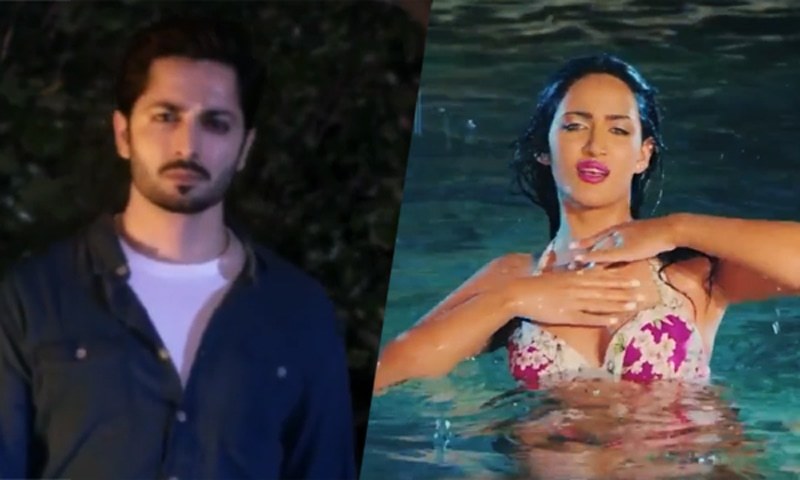 And we wish it wasn't.

Mathira is just being Mathira in the trailer and the song but what is up with Danish Taimoor? He's a fine actor with some decent acting potential, however, Tum Hee Ho is a movie that is seriously making us question his choices as an actor. Is he just signing every movie that comes his way? Does he not read the scripts? In all honesty, the trailer was distasteful and the song just took it to a whole new level of vulgarity.
Pakistani cinema is in its reviving phase, but with such movies coming out every now and then, we wonder where we're going. Back to where we started?
Mathira reveals a bit too much of herself in Tum Hee Ho trailer
The likes of Tum Hee Ho just seem to reverse what many filmmakers have been recently trying to achieve. Instead of moving forward, it looks like we're still stuck with the old Lollywood mentality, and what's worse is that actors like Danish Taimoor who have a huge mass following seem to be supporting it. We're pretty sure the Pakistani audience has better taste than what Tum Hee Ho and Mathira have to offer, right?
Watch the video of 'Mahiya' featuring Mathira and Danish Taimoor and you'll know what we mean.
Firstly, we're not in favour of item songs (especially the ones that star Mathira), but that's not the only problem here. From horrible choreography to offensive styling and distasteful expressions, the video has it all! Nothing seems to be right or working and we don't have words to review this song. Long story short, we're just hoping the censor board is watching!
Also, did you know Tum Hee Ho is penned by the same writer who wrote Ishq Positive? In case you didn't, well, now you do!
In Focus: Ishq Positive goes down the (failed) Lollywood way
Tum Hee Ho is a Sangeeta Film Production which will be distributed by Geo starring Danish Taimoor, Mathira, Sajid Hassan, Saim Ali, Ghana Ali Quratulain and Sangeeta herself among others.
The movie was initially set to release in 2016 but it will now be released on 14th April 2017.