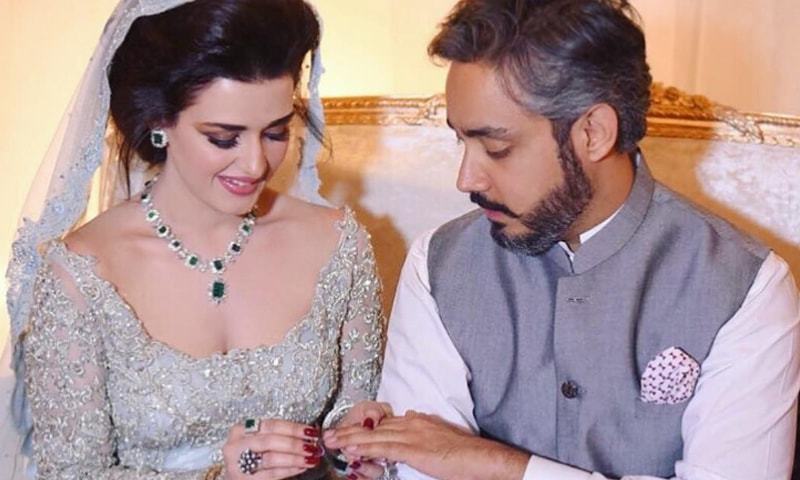 Mixing business with pretty, Natasha Khalid tied the knot earlier this month and stunned us all.

When you watch makeup tutorials all you hear them say is "blend this, blend that" and it seems like an easy job but it really isn't and of course everyone wants to look drop-dead gorgeous on their wedding day so nobody would risk doing their own makeup. But who can you really trust? Someone who has mastery over the art of makeup, someone who knows what it really means to 'blend' the makeup, someone who is in short, trustworthy.
When it comes to trust, hands down Natasha's Salon is everyone's pick. The woman adding more glamour to any girl's wedding recently reversed roles when she tied the knot herself.
Natasha Khalid quickly became the talk of the town as she posted pictures of herself with her beau on Instagram.
They tied the knot in Dubai and we cannot stop admiring the beauty of Natasha and how gracefully she carried herself.
Her mayun/Dubai dholki pictures were so stunning - wearing a Farah Talib Aziz bridal for her fun filled night added more grace to her persona. (and that adorable photograph with her hubby heart eyes)
Like grandmother like granddaughter- Natasha looked remarkably beautiful as she wore her nani's jewels and her mother in law's sari for her Nikkah day and the similarity between Noor Jehan and herself seemed unrealistic.
Social media went abuzz when this gorgeous was revealed - That grace, that poise is nothing short of a scene from a fairy tale.
And that absolutely natural and flawless makeup... is that her signature 100 Watt Skin?
And we thought you know that this was it but keeping up with Natasha we found out that they would have a wedding Karachi as well.
The first photograph was of her mehndi lagayi and we were stunned! This is Natasha without any makeup and we started to think that her makeup looks exactly like no makeup.. what sorcery is this?
Some of us are always in search of beautiful henna art and look at this - Can we have the henna artist's number, please?
She shared her Karachi dholki look where she was seen flaunting a Mina Hasan dress and goes without saying looked flawless.
Last but not the least came her Karachi Wedding look which was ethereal. Mina Hasan's bridal wear complimented the gorgeous Natasha Khalid in all the right ways.
We do have a question, though, If Natasha does everyone's bridal makeup, who did hers? All jokes aside, we at HIP congratulate Natasha for her wedding and wish endless happiness for her and loads of brides who come to her for their special day looks.