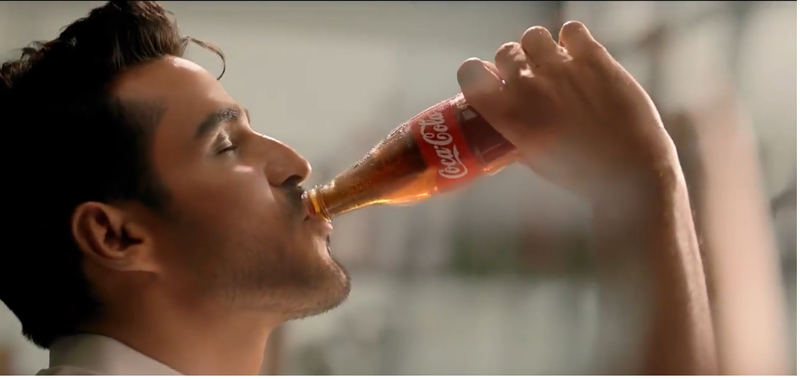 Coca Cola in its new ad tells you to return to your one true love this summer, that is a bottle of Coke

When was the last time you saw Sikandar Rizvi in an ad? Not in a long time, right? Well neither have we. This new ad of Coca Cola kept us glued to the screen for full 45 seconds and we wish we had more time!
In the last few months, Coke has come up with three ads, one with Iman Ali, then Shehryar and Mahira and just recently with Ayesha Linnea and Sikandar Rizvi. That's quite a star studded line up for a FMCG.
Read: Meesha Shafi and Umair Jaswal sizzle with 'Zalima, Coca Cola Pila De'
This ad is directed by Asim Raza, the man behind Ho Mann Jahan who also has directed many more ad campaigns over the years.
Read: Iman Ali, Zeb Bangash and Coke unite to send the perfect message
The commercial kicks off with Ayesha sitting in office during what we assume is a hot summer afternoon. She's waiting for her afternoon tea. As she gets her tea, she notices Sikandar walking over to the fridge at work and take out a bottle of ice cold Coke. While Ayesha is dipping her tea bag to make her tea strong, you can't tell whether she's mesmerizied by the good looking Sikandar, or the chilled bottle of Coke he's glugging down. He notices her, and she looks away embarrassed. But she can't take it anymore. She leaves her cup of tea, walks over to him and takes his Coca-Cola, leaving him quite surprised.
For me, this ad is true to the strategy of Coke, of being a refreshing and energizing drink (much like tea), but ice cold and definitely more suitable to our scorching hot summers (being your one true love this summer).
There have been multiple reviews floating around on social media. Some say its a direct attack to Chai lovers. But let's not get into that.
While speaking to HIP exclusively, Asim Raza said: "I am excited with all comments floating around. There is so much buzz. The whole concept was to get people to know that they can consume an ice cold Coca Cola in this hot weather to reenergize themselves just like a cup of hot tea – except it's deliciously cold. Of course we put our twist in the ad with the attraction between Sikandar and Ayesha! I am so excited! "