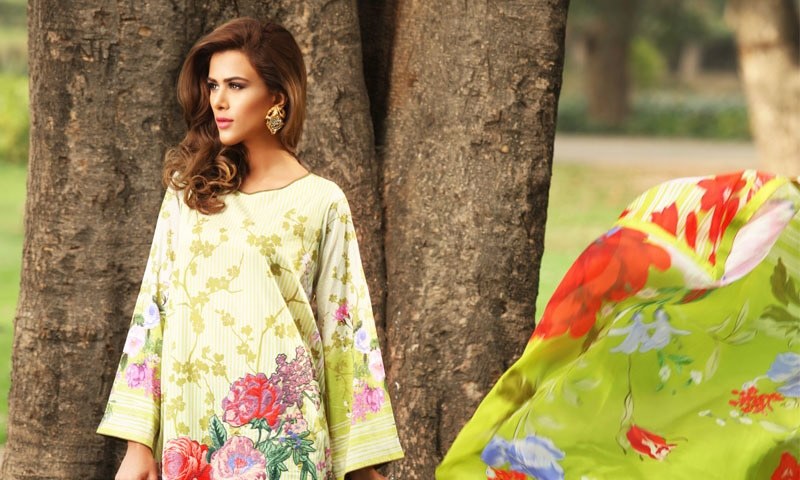 The birds are singing and the flowers are dancing in full bloom; guess what women? Spring is here and so is your favorite lawn. So wait no more pretty girls and rush to grab your favorite joras today before they run out of stock.
We understand you women, your lawn joras are what you rely on the most during summers. They're easy to style, super comfortable and you absolutely love them (yes we do too) and this is one of the many reasons why we continue to bring you latest lawn collections every few months.
But this time we thought about doing it with a different flair; this time we thought about dressing the diva in you, in a way you want to be dressed and so we bring you the premium Nourhan Summer Collection 2017.
Nourhan is a Turkish word meaning the light of the sun. This beautiful word is an embodiment of confidence, boldness, independence and strength, just like the sun and of course our women of today. With this unique perception in mind, our eyes riveted to Nourhan- a premium lawn collection that reflects the enlightened women of today. Nourhan Lawn is as beautiful as it comes and has been designed for the modern women of today who stays in sync with her feminine side along with her confident and bold demeanor.
Nourhan dresses the women of today aptly as it understands their exact requirement amidst various sub-standard offering in the chaotic lawn market. Gohar Textile, a brand committed to excellence, has brought in its Nourhan collection with only one thing in mind; to deliver to women the finest options available when it comes to buying premium quality lawn. It is a name known for its quality and this family owned brand brings to them high grade fabric with designs to gush over unstoppably.
Women, if you're looking for lawn collections that give you bold designs yet let you stay connected with your femininity, Nourhan by Gohar Textiles is your best bet. Produced on air jet looms with superior manufacturing technology, the fabric for Nourhan is at par with the top international brands. Lightweight, breathable, soft and of course sturdy, Nourhan is the lawn for the women of today.
So if you desire to romanticize your ethnic roots and give your wardrobe a makeover with strong yet feminine prints, Nourhan is your game. You will find a range of visual dialects within Nourhan. From Kashmiri paisleys to European blossoms and French Rococo roses, Nourhan is a visual treat. With it's geometrical forms, botanical imagery and perfect amalgamation of floral motifs, Nourhan lawn is an ode to women and fashion in itself.
And when it comes to colors, Nourhan has ensured it gives women a breath of fresh air with its very subtle approach. Nourhan has the rococo style pink roses and powder blue tones inspired by the bluest of blues that nature has to offer. You will find the collection to be inspired from the breezy sky to the azure of the oceans, indulging in a pallete of natural hues.
Nourhan will truly let you connect with your femininity and yet be the strong woman you are. So grab your favorite print now to strike that connection!