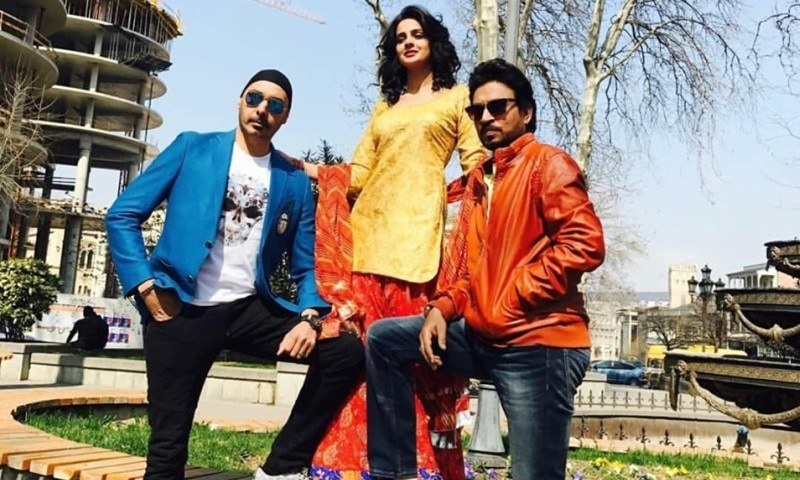 Along with Irrfan Khan, the trio are in Georgia shooting the song for the movie.

Saba Qamar is a very busy actress with one foot in Pakistan and the other in Georgia these days for her Bollywood debut movie. While Saba was busy working in India on her movie Hindi Medium opposite Irrfan Khan, the Uri attacks took place causing her to came back as soon as her shooting was wrapped up due to the ban on our artistes. But with song shoots remaining she is back on the set of Hindi Medium not in India mind you but in beautiful Tbilisi shooting a song along with Sukhbir and Khan.
Yes guys you read it right! Saba Qamar will be dancing to the tune of Sukhbir who is known to get the crowd grooving as soon as he comes up on stage. With Qamar accompanying him, we are sure the duo will create magic on celluloid.
Read : Saba Qamar's Bollywood debut movie 'Hindi Medium' to release on March 31, 2017
According to Pune Mirror, Qamar and Khan took off to Tbilisi in Georgia last week accompanied by Sukhbir. The trio are there to shoot a recreated version of his popular number called Tare Gin Gin which will be used as a promotional track for the film.
"Irrfan and Saba will be dancing to the tunes of this peppy number along with Sukhbir. It is one of Irrfan's favourite songs and both Saba and he started to groove as soon as it came on. The vibe on the sets is lively and with Sukhbir singing live, it just added to the energy of the song," informed a source present on the set.
Hindi Medium has been directed by Saket Chaudhry and it revolves around the struggles of the middle class in Delhi who will do anything to be part of the elite circle.
With Hindi Medium about to release soon, we cannot wait to see Saba Qamar spread her charm in Bollywood as well. All the best Saba!