State Bank of Pakistan has released an honorary coin for the late Abdul Sattar Edhi to honour and remember him

The State Bank of Pakistan had announced in July that a commemorative coin will be released to honour the undying efforts of Abdul Sattar Edhi, the founder of the largest welfare organization in Pakistan earlier in March however, it has now been released on 1st April.
Abdul Sattar Edhi was a philanthropist who dedicated his life for the well being of people of Pakistan. He served his whole life to help others and do good for the society.
After Edhi's demise, the SBP recommended Prime Minister Nawaz Sharif to issue a Rs. 50 coin to honour the late noble man to which he agreed.
The coin which is made from copper-nicel has Edhi's portrait inscribed on one side with words saying "Abdul Sattar Edhi - an era of humanity" in Urdu on top and "1928-2016" on the bottom. The honorary coin was presented to the late humanitarian's son, Faisal Edhi.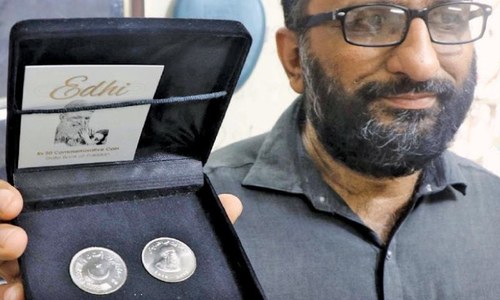 On this occasion, Faisal Edhi thanked the government and SBP and said, "My father will always remain alive in the hearts of the nation and his mission shall continue."
Paying tribute to the Father Teresa of Pakistan, Governor of SBP Ashraf Wathra stated that only five commemorative coins have been issued in Pakistan to date including Edhi Sahab alongside Quaid-e-Azam Mohammad Ali Jinnah, Mohtarma Fatima Jinnah, Allama Iqbal, Mohtarma Benazir Bhutto.
He further added that Abdul Sattar remains the first social worker who has been honoured with a commemorative coin.
Making no distinctions between ethnicity, religion, colour and race, Abdul Sattar Edhi taught us all an important lesson: to always help each other, to take care of each other and to dedicate our lives for the welfare of our society. We are forever indebted to your unmatched love for the country and its people.
You will always live on in our hearts and memories, Edhi Sahab.