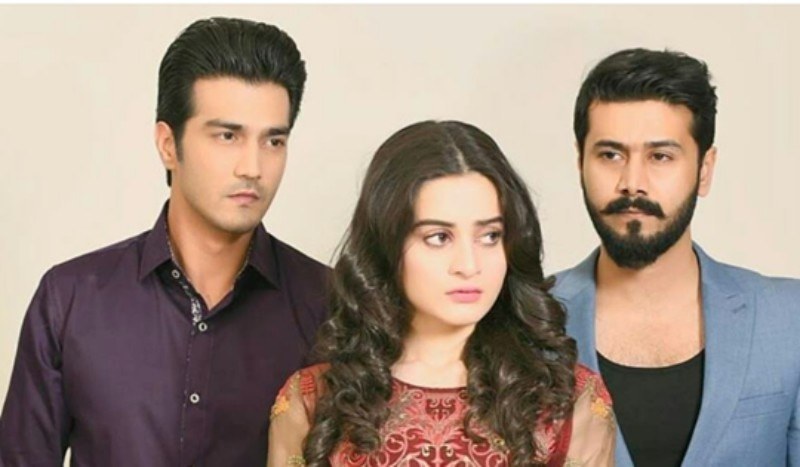 Ali Abbas shines bright as Basil and keeps the viewers wanting to see more of what he has planned in his evil mind!

A sign of a good play is when the viewer gets so involved in the plot that with every twist and turn you yourself can't help but bite your nails in anticipation of what will happen next!
Well this is exactly what happened to us last night when we decided to see what all Basil (Ali Abbas) was up to in Khaali Haath since we hadn't seen it last week and thank god, we tuned in to see last night's episode because Basil has just managed to land himself in hot water by indirectly confessing to Sobia (Kiran Haq) that he is in love with Mashal (Aiman Khan)!
Yes, guys that's exactly what happened and we just couldn't believe it that he finally blurted it all out in front of poor Sobia who thinks the world of him.
Read : Will Basil ever succeed in winning Mashal over in 'Khaali Haath'?
Now what led him to finally announce it out? Well let us tell you a bit about what happened in Khaali Haath's ninth episode.
With Sobia sick and Mashal coming over to stay with her upon Basil's insistence of course the trio are seen having a nice breakfast where Basil is seen complimenting Mashal on everything. Much to Sobia's dismay because by now her husband's odd behaviour towards her little sister is making her mind wonder about what exactly is going on?
With Basil, who never comes home for lunch, he is seen dropping in and even seen feeding Mashal food while Sobia is standing right there made us question Mashal's motives as well. We found this particular scene a bit odd because she is a bright girl so how is she not reading a bit more in Basil's intention is a bit alarming but with Mashal not questioning his motive we are glad that at least Sobia is keeping her mind alert.
Since Mashal is staying in their house Basil decides to sneak up to her room just to get a glimpse of her but with him staying a bit too long she wakes up to see a shadow of someone who was looking inside the window. With her being scared Mashal quickly tells Sobia and miraculously Basil who quickly ran back in the room is seen reassuring her that it was nothing.
Read: HIP exclusive: Aiman Khan talks about her upcoming play Khaley Haath
Now, what a clever man he is! With Sobia and Mashal's mother alarmed at the event she takes all to her home for few days making Basil grin at the idea that he will get to spend some more time with the love of his life. With Basil trying to get close to Mashal and Sobia always coming in between Basil has had enough and with Mashal going to Haissam's (Shehzad Sheikh) house with him to meet Phoopu , it just leaves Basil feeling so jealous that in rage he just blurts out to Sobia that he was going home because Mashal was no longer there!
The ending of the episode was so intense that we honestly can't wait to see what Sobia will do after this latest twist in the drama.
Ali Abbas, Kiran Haq and Aiman Khan keep Khaali Haath stimulating week after week and not to forget the gripping storyline written by Seema Munaf which makes the drama worth a watch for sure.
A special mention must be made for Ali Abbas, a wonderful actor who focuses more on his craft then his looks make him our favourite this week. The way he is playing the complexed Basil is what makes us as well as the viewers tune in weekly and now with a new turn in the tale we for one are not missing a single episode of Khaali Haath every Monday at 8pm only on Geo. TV