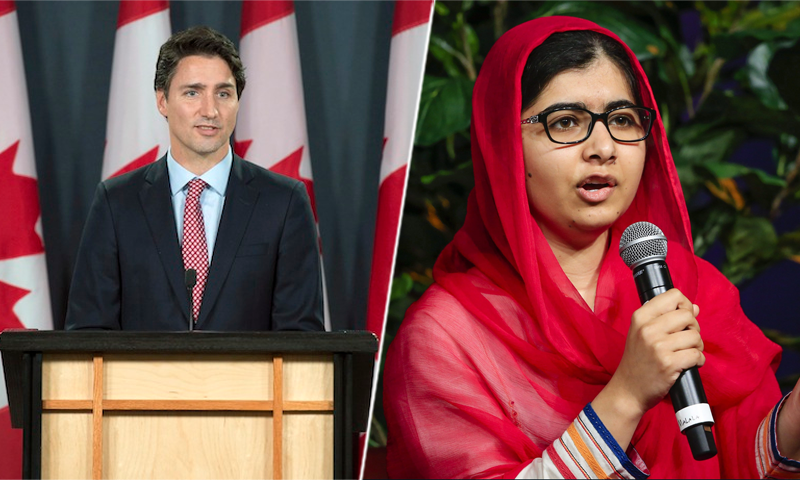 Canadian prime minister announced yesterday that she will also receive her Honorary Citizenship of Canada

Canadian Prime Minister Justin Trudeau announced yesterday that Malala Yousafzai will be visiting the country on April 12, 2017, to address the Canadian Parliament and also receive her Honorary Canadian citizenship officially which was awarded to her in 2014.
Malala Yousafzai was only 15 years of age when she was shot in the face a militant while she was going to school. Since then, Ms. Yousafzai has become an active advocate for girl's education and women empowerment. She continues to be a representative for right of women and girls at international forums. Yousafzai is also a recipient of the Noble Peace Prize 2014 and has also addressed the United Nation in 2013.
Canada has been one of the most welcoming countries and continues to serve as a safe haven for millions of refugees amidst the European refugee crisis.
Trudeau who is looking forward to the ceremony commented about it: "" Ms. Yousafzai's courageous response to those who threatened her life, and her advocacy for girls' education, has inspired many millions of people around the world. Her story is one of determination and dignity, and Canada is proud to call her an honorary citizen of this great country."
Yousafzai will be the youngest person to address the Canadian Parliament and it would be a 'historic' moment he further added.
Upon receiving the invitation Malala was humbled and admired the people of Canada: "The people of Canada are leading the world in their response to the refugee crisis. I am honoured by Parliament's invitation and look forward to visiting this great nation of heroes."
We at HIP wish Malala Yousafzai best wishes and many congratulations to her for her achievements.