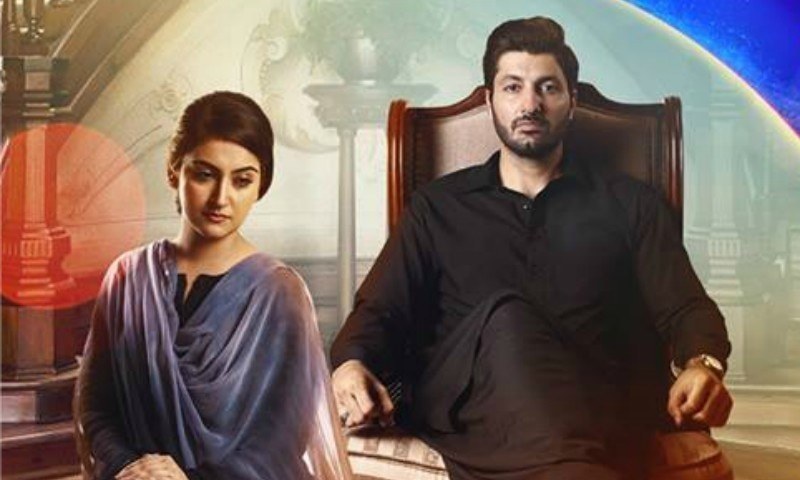 Bholi Bano reminds us of the old dramas which used to be made with the prime focus being just on the story.

Sometimes it is nice to see a story which is simple and straight forward without having too many ups and downs in a plot because that just leaves the mind confused like anything.
So Geo TV's Bholi Bano is a breath of fresh air as it is simple yet has an interesting story which in fact reminds us of the good old dramas which initially used to be made with the prime focus being just on the story and not worrying about how lavish the sets were or how good the actors were looking in each frame. With the play having aired 12 episodes so far, this week saw Bano's(Hiba Qadir) life entering a new phase by getting engaged to Soban (Syed Arez) who loves her to bits, but has no courage to ever stand up for her leaving us to wonder what future could the two possibly ever have together?
Before we review this week's episodes for you let us recap a bit about what all has happened in Bholi Bano so far.
Read: 'Bholi Bano' continues to impress the viewers
With Nani (Samina Ahmed) not willing to keep Bano since Abid Mamu (Imran Bukhari) has decided to stay at his in-laws leaving the two ladies alone in the house to fend for themselves . Bano has been sent to Karachi to live with Soban's parents as Nani did not want to take the responsibility of a young girl alone with her. But just like Soban, even Bano has no value there and has been reduced to work like a maid while his stepmother and sister called Zenia (Namrah Shahid) relax and just give orders to her.
So this week saw Zenia eyeing Tajdar (Syed Jibran) and finding ways to visit his house which shows that just to marry in wealth she will do anything but the one thing which no one is aware of as yet is how Tajdar has eyes only for Bano but since he doesn't know where she is he continues to keep this secret from his mother. With his mother visiting Zenia what would have been interesting was if Tajdar would have accompanied his mother too and seen Bano slaving away in the kitchen now that would have made the episode even better but then again with the story heading towards Bano and Soban's engagement we are sure Tajdar's discovery of Bano is reserved for later on.
With Bano quite miserable, she calls up Abid Mamu to ask for help in going back to Hyderabad to be with Nani but since he is so involved in living the life of the rich he can't really help her but with Soban's father going to visit Bano's Nani he takes her along too because he wants to ask her permission for making Bano his daughter in law!
With Nani over the moon with the proposal Bano finally gets engaged to Soban but that just leaves us wondering how will she survive there, since he has no say in anything and with her being his wife she will only continue to do the house work like before and what about Tajdar who is still searching for her?
So with a new twist in the tale Bholi Bano continues to keep us engrossed with its story line penned down brilliantly by Samra Bukhari.
If we talk about the acting part then Hiba Qadir stole the show this week with her natural acting and the way she continues to play Bano with such innocence in fact the charm in Qadir is her simplicity which is a welcome change from the current actresses on board these days. Syed Arez continues to impress and we hope we see him take a stand soon because the boy is just too scared of his step mother who these days is being extra sweet to him only because he has started working at his father's store which she wants to control!
Even though we saw a bit of Syed Jibran this week but the way he is playing the over bearing Tajdar has us impressed and we would love to see his reaction when he discovers that Bano is already engaged.
Now the question remains, will he try and break the engagement as Tajdar always gets what he wants or will he settle down with Zenia just to be close to Bano is what we want to see next Monday and Tuesday only on Geo TV at 9 pm.