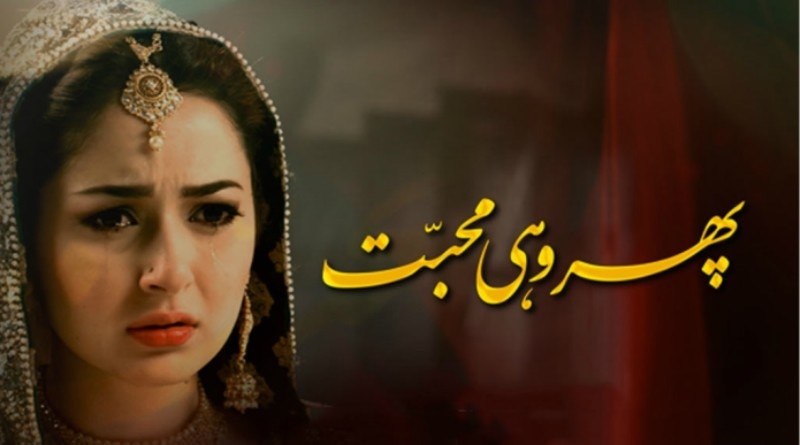 With Sang-e-Marmar ending the new play which has taken its place is called Phir Wohi Mohabbat on Hum TV starring the pretty Hania Amir in the lead along with Ahmed Ali as Alishba and Waleed.
Where so far with four episodes down it may not be as brilliant as Sang-e-Marmar, but with the story looking interesting we are sure in the coming weeks the drama will definitely pick up pace as besides a good story line it also has a stellar cast to its advantage which includes the likes of Saleem Mairaj ,Shameem Halali and Shamoon Abbasi to name a few.
The story begins with Ashar (Shamoon Abbasi) and Samra (Zainab Qayyoum) who are a happily married couple and expecting their second child. While Asher is very caring in nature especially as far as Rafiq (Saleem Mairaj) is concerned who is their old servant and looks after his eldest daughter Alishba, Samra on the other hand is rude and prefers to let servants know that they are mere servants and nothing else.
With Rafiq's wife also expecting Asher tells him to bring his wife and son to the city for better care but an incident between Samra and Rafiq's wife changes the course of everyone's life forever. With Samra minding how well a poor woman was being treated at a function especially held for her about to be born child Samra creates havoc which upsets everyone so much so that the next day Samra falls ill and loses the baby. In a hurry to reach the hospital Asher in the pouring rain hits two people who turn out to be Rafiq's wife and son!
Read : Hania Aamir to play lead role in two upcoming dramas
With Asher confessing to Yasir (Shammal) who is his brother what happened that night, Rafiq over hears them and to take revenge he kidnaps Alishba who at that time is not more than four or so and is quite used to Rafiq who looks after the girl while her mother is busy doing god knows what.
With an interesting twist penned down by Mansoor Saeed, the drama in four episodes moves ahead to 15 years where Alishba (Hania Amir) is all grown up and goes by a different name which was given by Rafiq when she was small. With the duo living in a village quite happily fate brings them to Karachi as Rafiq falls sick but with his sickness and treatment Alishba somehow lands up in Asher's house to work as a maid! With Samra who now is limited to a wheelchair she finds solace in the new maid without knowing that she's her long-lost daughter.
With Yasir and Ramsha's (Salma Hassan) son Waleed arriving, the play became interesting as we will get to see some great on screen chemistry between Ahmed Ali and Hania Amir. Coming back to the story with Rafiq not aware where Alishba is working last night's episode took an interesting turn when Asher's Dadi played by the wonderful Shameem Halali comes to meet the maid's father who is sick and discovers it is Rafiq! With Dadi furious with him and asking where Alishba was, what remains to be seen is whether Rafiq will tell the truth that the new maid is her granddaughter or continue to lie.
Direction by Mohsin Mirza so far is smooth and we like how each character has been well defined as well as introduced to the viewers. Initially few scenes were a drag which broke the tempo of the drama but with Alishba hopefully coming to live with her real family we are sure the drama will pick up pace.
At the moment the stars of Phir Wohi Mohabbat are Hania Amir, Ahmed Ali, Saleem Mairaj and Shamoon Abbasi, these are the people who are making us want to tune in next Thursday at 8pm only on Hum TV to see what does the future hold for the innocent Alishba and the handsome Waleed.