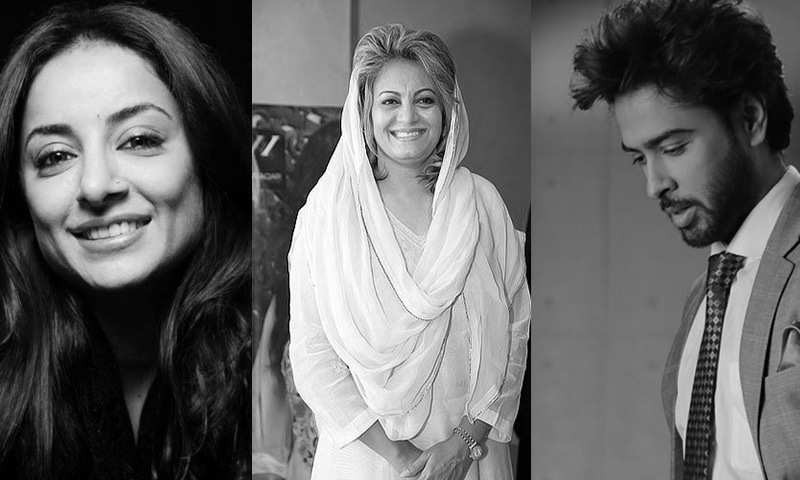 We certainly love and appreciate this altruistic side of our celebs and pray they keep giving back to the society.

We in Pakistan are genuinely blessed. Reason why we say this is because we have the names to prove it. Our entertainment industry is filled with compassionate people who not only feel the pain for others, but act upon it as well. Celebrities who are generous with their love and give back to society, who work for a cause without any gains, devoting their time and earnings into making things easier for the underprivileged people out there.
1. Sarwat Gillani
A woman with a heart of gold, not only is she actively advocating for the rights of women and literacy in her drama Seeta Bagri on TV One, Sarwat is also on board as the Goodwill Ambassador for Special Olympics Pakistan. The actress was recently spotted at the launch of project Shahpar at the AmanTech building, a collaboration between SOP, Aman Foundation and NOWPDP.
Read: Aman Foundation, SOP and NOWPDP Launch Project Shahpar Together
2. Depilex and Masarrat Misbah
Masarrat Misbah is a force of nature to be reckoned with. Not only has she made a mark in the world of fashion and beauty but has taken upon her shoulders the responsibility of rehabilitating acid attack survivors. Masarrat and her Smile Again Foundation actively works to rehabilitate women who have been victims of acid attacks and help them return to normal life by providing for them and their treatments.
3. Abrar-ul-Haq
A superstar by all means, Abrar-ul-Haq is the name behind the charitable organization SAHARA Trust. Working day and night to bring and raise awareness about better health and medical facilities for people in the rural area, Abrar also established the Shughra Shafi Medical Complex in Narowal when he was made aware of the town's deprivation of basic health facilities. Abrar and his foundation are tirelessly working to bring better healthcare facilities for underprivileged people in Pakistan and we support and cherish him for this initiative.
4. Shehzad Roy
We all know the guy has an amazing voice but did you know Shehzad Roy is also a dedicated philanthropist at heart. He set up the Zindagi Trust with aims of improving the standard and quality of education and making it available to the average Pakistani. Zindagi Trust also provides free books and school supplies to underprivileged children. This is the first step to a better future and we have the likes of Shehzad Roy to thank.
5. Shahid Afridi
We call him 'Lala' or 'Boom Boom' for his antics on the cricket field, but off-field he is just as busy, with his non-profit organization the Shahid Afridi Foundation. It is focused on providing basic healthcare, education and sports facilities to people in Pakistan and around the world. SAF has initiated a number of projects in Pakistan including a hospital in Kohat and hand pumps and water well projects in Sindh and KPK. The foundation also provides scholarships for students and children. But that's not all. Shahid Afridi in particular is also the Brand Ambassador for Polio in Pakistan and is associated with a number of charities around the world. It's no surprise he made it to the top 10 charitable sports persons list.
6. Ahsan Khan
Talk about people who don't publicize what they do and Ahsan Khan would top your list. This one guy might not be openly associated to any charity or foundations but Khan supports a number of social causes away from the eye of the camera. We recently saw him collaborating for inclusive rights of special children. He also did a lawn shoot for Rungrez lawn, since the brand was donating a significant part of its profits to Moawin Fondation, an organization working to empower rural woman. There are countless ventures where Ahsan Khan has donated his time, efforts and money for a good cause.
7. Sahir Lodhi
We bashed him for Raasta but we do know Sahir Lodhi is a genuine sweet heart and a hard working philanthropist. Sahir Lodhi Foundation, set up by the actor and host is focused on rehabilitating underprivileged people and providing them with the basic necessities of life. In a recent press conference, Sahir Lodhi mentioned that Raasta was an attempt to earn funds for his hospital that he intends to build under the Sahir Lodhi Foundation.
Only recently Hamza Ali Abbasi and Humayun Saeed worked together for a fundraiser in Illinois "Forgotten People Organization" which works towards the rehabilitation of Pakistanis stranded in Bangladesh.
We would also like to mention how our celebrities recently came together and stood united for a cause by Karachi Down Syndrome Program (KDSP). KDSP recently organized a campaign titled "Aao Humaray Sath Chalo" and also released a song of the same name sung by veteran singer Ali Hamza. The campaign was focused on creating a world of acceptance and inclusion for people with Down Syndrome and we loved how celebrities namley Bushra Ansari, Sarwat Gilani, Javed Sheikh, Ahsan Khan, Momal Sheikh, Anoushey Ashraf, and Sheema Kermani also made an appearance in the video. Also Gohar Rasheed worked for an initiative by KDSP adding more to the respect we already have for this guy.
Our celebrities never fail to make time out for charitable causes and do good. We certainly love and appreciate this altruistic side of our celebs and pray they keep working and realizing their responsibilities to give back to the society all the more.
These names mentioned are only a handful of the entire lot. We have people who aren't as open about their philanthropy but alas, they lend a helping hand to the society. We at HIP wish every one of those we know and those we don't, the best of luck and success for their future endeavors.