The 'Jalaibee' filmmaker is now making burgers and everyone is all praises about them!

You might not bay leaf in magic burger but that will change once you visit the latest addition to Islamabad's food scene: Jessie's burger joint.
Yasir Jaswal seems like a name who is set to conquer all- in a short span of his career he has directed music videos, he is currently the lead vocalist of popular Pakistani band Call and has made his film debut in 2015 with 'Jalaibee'.
The talented hunk is now behind the scenes but this time in a restaurant- Yasir Jaswal opened the doors to his new burger joint in the capital and everyone loves it for the food.
The pocket-friendly and hip burger joint is all everyone has ever wanted - with burgers ranging from 595-695. Talking about his target audience to Dawn Images he said, "Keeping in mind what a young burger lover can afford we've ensured to keep the prices within this range."
Discussing the name of the joint he said, "My high school friend and my siblings always refer to me as 'Jessie' instead of Jaswal and my father decided that this is what it should be named."
Read More: Try these fantastic, mouthwatering burgers RIGHT NOW!
What makes the burger joint truly stand out are its succulent burgers that are enough to satisfy a hungry stomach. The menu currently offers five types of burgers, making all of them exclusive, a stand out from each other. The burgers either offer a 6oz or 7oz patty, loaded with cheddar/mozzarella cheese, mushrooms, onions, tomatoes; ensuring that each layer stands out. The punch of flavour is something everyone is guaranteed to enjoy at this cosy restaurant, offering a lush green view of the capital from its location in F-7.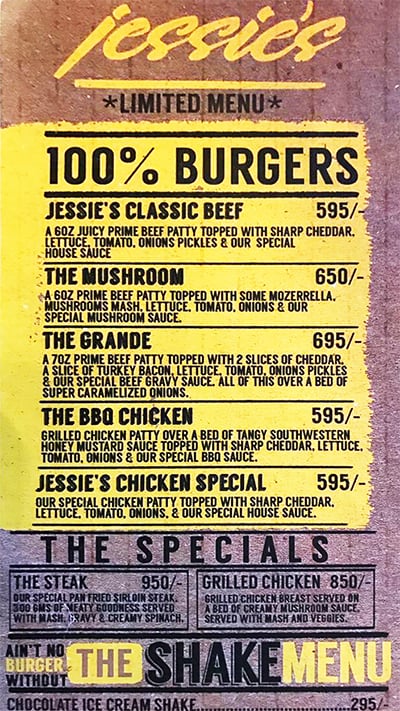 Jaswal wanted to ensure that nobody assumes that he has opened up a restaurant to make use of his media presence. "I am usually found in the kitchen at home, fixing meals for my family and friends. I want Jessie's to be solely popular for its taste, for its food, not because I own it," he said.
The already popular restaurant is only a month old and has formed a loyal following. We hope that Jaswal soon opens up Jessie's branch in Karachi so we can also delve into the amazing looking burgers.
We at HIP wish Jaswal all the best for his future endeavours.