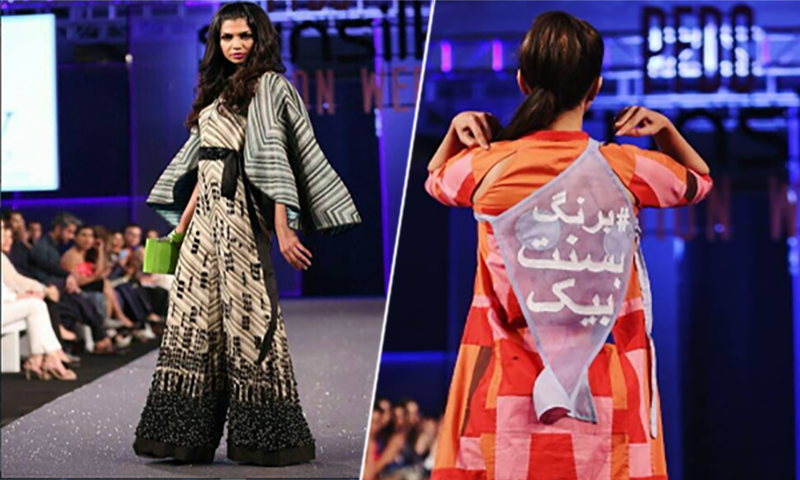 The 10th edition of PSFW (Pakistan Sunsilk Fashion Week) kicks off in Lahore!

Versatile, trendy and chic. All these terms are synonymous with the fastest growing industry of our country; fashion.
Back for its tenth edition, Pakistan Sunsilk Fashion Week 2017 opened in Lahore last night. The designers showcased their high street wear and lawn collections that screamed chic.
PSFW returned this year with a new ideology: to give each day of the fashion week a new twist and allow designers to showcase their collections as solo and/or grouped. Ensuring something new for the audience, this year's fashion week had two separate show spaces and independent ramps in the same venue (Yes, it sounds confusing but it was loads of fun!).
The show starter was none other than Pakistani maestro fashion designer HSY, whose collection named 'Paranoia' was beyond amazing. The collection takes inspiration from a modern age dilemma; technology. The issue showcased how constantly being watched and monitored by people induces a state of paranoia amongst the new generation. Worth noting is the inclusion of two emerging fashion designers of Pakistan; Asma Butt and Ehsaan Lynch, who have worked closely with the maestro for this collection. The collection features both men and women's wear.
Misha Lakhani showcased her collection 'Caravan'. The collection makes use of hand woven fabrics to convey poetic storytelling. The showcase made use of light, bright and relaxed colors and incorporated details to give it a modern touch.
What also stood out was Generation's colorful collection, making it a perfect fit for the summer season. Ensuring to keep it trendy, the showcase featured colours of spring and the collection was named 'Bring Basant Back'. The collection encapsulated the true spirit of Basalt and what better venue than Lahore. We admire Khadija Rahman for sending out this strong message through her work of art.
The 1st day also featured designer wear by Sania Maskatiya and introduced six emerging fashion designers through the group show 'Bank Alfalah Rising Talent Show'.
The first show of the most anticipated fashion week received rave reviews so we're excited to see what day 2 and 3 have in store.