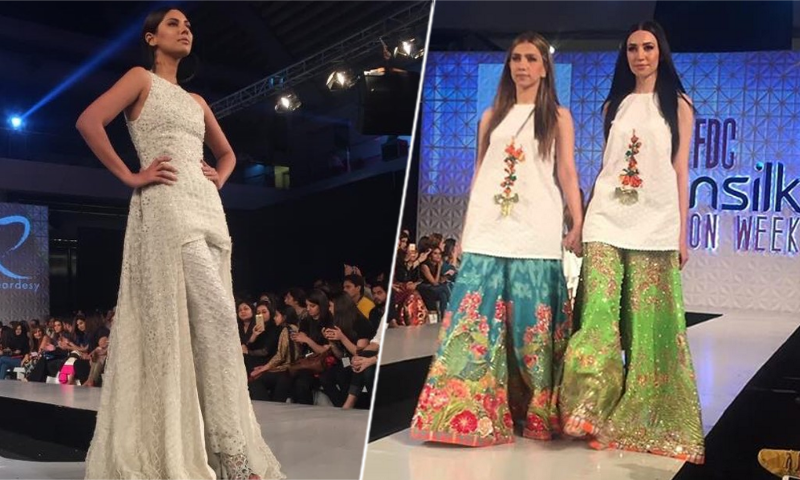 Pakistan Sunsilk Fashion Week closes to a spectacular showcase by top designers of Pakistan

Proving that fashion is something the Pakistan excels in, this week's PSFW made a special place in everyone's hearts, with collections catering to locals and incorporating global elements fit for all.
Pakistan Fashion Design Council organized its 10th edition of PSFW 2017 in Lahore and it drew to a spectacular closing night.
With outstanding collections, there were quite a lot of 'wow' moments during the show.
Kick starting the Sunsilk Hair Show was Nabila. She pulled off jaw dropping looks only a maestro like her could. Just look at those up-dos and hairstyles!
Nabila sure is the hair genie!
Couture showcase
The first grouped showcase featured collections by So Kamal, Saadia Asad and Rang Rasiya.
Starting off the couture display, So Kamal opened the show with its perfect fit for summer collection. 'Mughal Sway' combines the blend of flowy summer wear with mughal inspired designs. Our personal favorite was this dress in particular.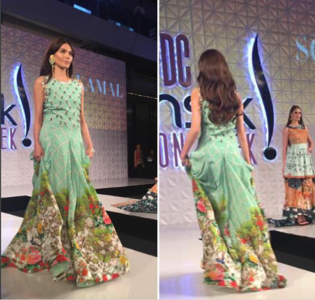 Following that, little adorable models for Saadia Asad stole the show! As soon as theses cuties walked the ramp, everyone had a heart melt moment and couldn't help but say 'aww'. The little divas wore Asad's collection 'Noor'. Her collection used soft colors which was pretty soothing to the eyes. It was also mentioned that a percentage of her sales would be donated to a cancer hospital.
The 'Rang Rasiya' collection was an eastern summer collection that used a variety of colors fit for the season. Her flowy silk garments showcasing muted colours gave a much needed cooling effect.
Sana Safinaz collection was an ode to the yesteryears of Hollywood. The elaborate designs and detailed work was truly commendable. The bold and edgy outfit designs stood out most from the show.
The second grouped show was by Khaadi Khaas and Adnan Pardesy.
Khaadi Khaas instantly won hearts, showcasing tribal prints and designs in the collection named 'The Nomad'. Going with the fun theme of summers, the colours as well as the outfit designs were a hit as the models walked the ramp. People raved about the designs and rightly so, just look at these outfits!
Adnan Pardesy's collection was something out of a fairytale! Making use of golds and silvers, the heavily embellished and embroidered outfits both for men and women had everyone gasping.
'Republic' by Omar Farooq was a showcase of menswear which took its inspiration from Japanese designs. The collection was trendy and fitting for the season.
Another highlight was Fawad Khan showing up at the event to show support for the designer.
Ali Xeeshan, a designer known for his larger than life designs, closed the last night of PSFW 2017. His out of the box designs never fail to impress. Known to be daring, the designer took a spin on the traditional ajrak and it looks amazing!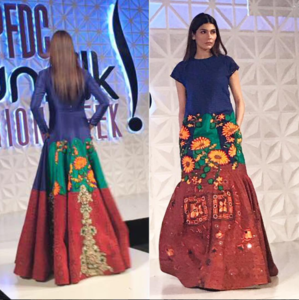 Any color you think of, Ali Xeeshan used sensibly and in just the right amount. The final walk was interesting to watch, as models walked holding big trophies. We think it's only fair to put up a great collection and give a spectacular ending to the fashion week, therefore Xeeshan truly deserved all those trophies.
Other designers included Asifa and Nabeel.
The spectacular collections and hard work by our designers and their teams deserves utmost appreciation. Thanks to their efforts Pakistan Fashion Week drew to a spectacular and emotional close last night.
The collections will be available for retail within this month.