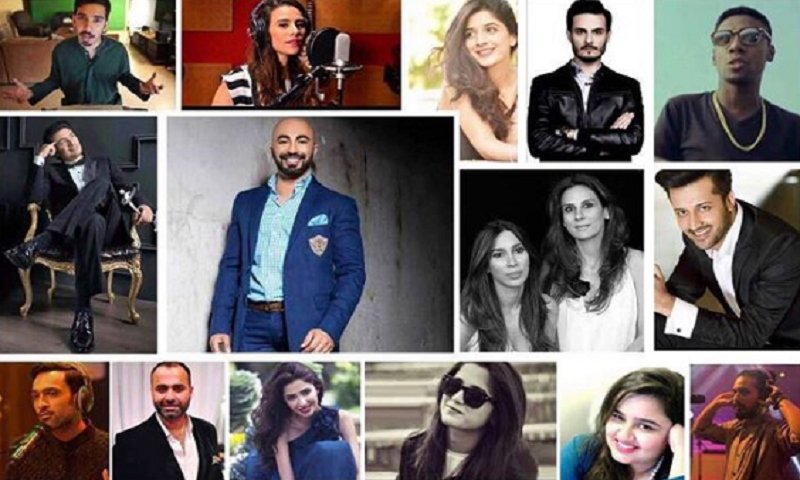 Find out what we're expecting from the LSA stage tonight!

Fashion industry's favorite showman is all set to present his mega event of the year. Yes, you guessed it, HSY has planned and put together a massive, larger than life stage for Lux Style Awards' 17 that has us all pretty excited for whatever's to come our way.
We're less than a few hours away from the red carpet and eventually the main event. And because HIP is hip, we're here to give you a round up on what we expect to witness on stage at the star studded event tonight.
1) Emotional tribute to Junaid Jamshed
We lost a gem of a person and an incredible asset to Pakistan last year, in an unfortunate plane crash. Yet the star remains alive in our hearts and we're glad HSY and his team came up with the idea of paying tribute to the legend on the grand stage.
If we're taking hunches and hints given in interviews here and there, Atif Aslam might be giving the tribute to JJ. In a press meeting after he was announced as the host for LSA'17, Atif mentioned an emotional performance and we're guessing that might be it.
The show may also have Abid Brohi and SomeWhatSuper (who have won LSA for Best Emerging Talent) for another performance alongside Atif. Perhaps the duo featuring the Sibbi boy will come up with an interesting mix of songs to rock the mood at the event. Since HSY has always been an advocate for young talent, we're quite certain about the boys' involvment at the show.
2) Mahira's presence is a must
How can LUX's award ceremony be complete without the original LUX girl, Mahira? This time, from the looks of it, seems she is not alone. She might be accompanied by the dashing script writer for this year's LSA, Osman Khalid Butt, adding in a completely new avataar to her performance.
3) Internet Sensations to make an appearance
HSY has roped in Shahveer Jaffery and Sham Idrees for the laughs. The guys recently performed at the Comic Opera and now we're more than eager to witness them at tonight's ceremony. Faiza Saleem, our very own local internet sensation, has also been invited to LSA for a performance. So expect some amazing one liners during the show. (A fresh breather from all those stale Ahmad Ali Butt jokes.)
4) Sheheryar Munawar is involved
Time and time again, we've seen pictures of the hunk dropping by the HSY Mansion and we can't stop wondering if he is involved in some bigger capacity. Perhaps a surprise performance? (We hope so!) We're also wondering how Bilal Ashraf might be involved.
5) Mawra has a secret to share about LSA
Is she the new face of LUX? With Mawra posting regarding her mystery project and HSY asking her about it, we're wondering what the beauty is planning for LSA this year. A performance unveiling Mawra as the new face of LUX maybe? We aren't sure, but we do know the diva is involved and bound to give a performance.
6) Ali Zafar with a mystery girl
Yes, you read that right. Ali Zafar is performing for LSA'17. The rock star has specially composed a melody for his performance and we're more than eager to watch. Suspense had been around whether he is going to be accompanied with a mystery girl for his performance.
We think he MAY be accompanied by Teefa in Trouble co-star Maya Ali for his performance. But who knows what tonight holds, so stay tuned.
7) Designer Series
This year LSA might showcase a Best Designer Series; different from all regular fashion shows. As per a leading daily, the designer line up will include Ali Xeeshan, Deepak Perwani, Elan, Fahad Hussayn, Faraz Manan, Kamiar Rokni, Karma, Nomi Ansari, Sana Safinaz, Umar Sayeed, Sania Maskatiya and Zara Shahjahan.
The Showman he is, HSY has definitely handpicked the best from the industry and designed a spectacular show. Seems like he has filled in Frieha's shoes quite easily. We're eagerly waiting for the show to begin. The event will also go live with Cybil Chaudhry and Waleed.
So stay tuned and watch out for HIP coverage, as we bring you the best from LSA'17 soon.
Read also: HSY Takes Charge Of The Reins For 16th Lux Style Awards