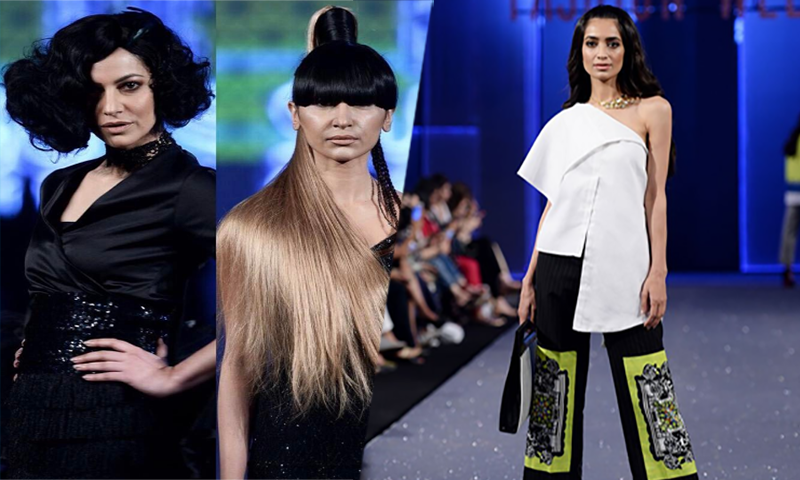 PSFW may be over but we can't stop drooling over the outstanding showcase of pret wear this season!

This past weekend, people of Lahore witnessed a spectacular display for pret, chic and season friendly outfits. Pakistan Sunsilk Fashion Week 2017 stood out from its previous seasons for several reasons. No matter how much we talk about it, it just isn't enough.
Some of the most renowned guests, designers and models were present at the event, but today HIP brings it's top 7 favorites from the entire three-day showcase:
HSY
HSY, with his Luxury Prêt collection titled 'PARANOIA', kicked off Day 1 of Pakistan Sunsilk Fashion Week 2017. Astounding color combinations, chic silhouettes and glitzy details, it was definitely wearable and we see his collection being an instant retail hit in the high-street market. The artists have worked to translate their respective interpretations of different kind of Paranoiacs as experienced by human beings. We applaud him for thinking outside the box and bringing something new to the table. It isn't easy to mesh two separate entities like technology and fashion together, but as always, HSY did the job flawlessly.
Khaadi Khaas
Khaadi Khaas showcased their new collection called 'The Nomad'. The collection represented a perfect amalgam of tribal narratives and style. Khaadi knows how to bring us something new each time, while staying true to Pakistani roots. That is why it'll always be our go to brand for formal and informal eastern wear. Although the fashion show showcased eastern prints on western styles and dress-like cuts as well, so one could consider wearing Khaadi abroad too.
Sana Safinaz
Sana Safinaz revealed their collection named 'Chateau Marmont' at PSFW 2017. The collection draws its inspiration from the golden age of Hollywood. Sana Safinaz's dazzling dresses and glittering gowns were so exquisite, so Old Hollywood glamorous, the only question on our mind was: Which Best Actress nominee will wear them to the LSA Awards?
Cross Stitch
Cross Stitch showcased their collection titled 'Holographic Memory' at PFDC Sunsilk Fashion Week 2017. The collection has luxurious fabrics and stand-out detailing. Our hearts skipped a beat, when a fierce female army of models walked on the ramp wearing dresses with stand-out detailing and intricate hand sequin embellishments.
Ali Xeeshan
Ali Xeeshan came up with his collection called 'Victory'. His new collection comprised of cut lines with ladylike flare and incorporated 3D embellishments. No doubt, he is always there to amaze us with his exceptional work. They say his collection was a vibrant illustration of how one could achieve anything they wanted to and he conveyed this storyline through the dresses and presentation.
Generation by Khadija Rahman
Generation gave major nostalgic vibes, with Khadija Rahman capturing the essence of 'Basant' festival. This collection was a silent protest against the ban of Basant and demanding to bring it back to Lahore, hence the name 'Bring Basant Back'. The collection featured chapkans, angrakha, kurta, Balochi kurta and hanbok in a range of fabrics and we also loved the pro-Basant slogans declared on kites binded to the models' backs. The large kite-shaped earrings worn by the models were also a delight to see.
Adnan Pardesy
Adnan Pardesy displayed his amazing collection called 'Quixotic' inspired by the idea of uncluttered simplicity. Both men and women wear lines were presented. Among the hues of pastels were several geometric looks. Sheer detailing, tone-on-tone embroideries, textured fabric and cutwork was worked onto neat silhouettes. We were certainly delighted to see Adnan Pardesy return to the limelight after a far too long of an interval.
Sunsilk Hair Trends 2017 by Nabila
Hair guru Nabila, presented some edgy and daring hairstyles that only her team could pull off. Whether it was braided, curled, waved, glossed down or puffed up; the hair presented uniqueness and style in its own way.
The fashion week's 10th edition was a spectacular display of season friendly, trendy pret wear. Which looks are your favorite? Comment and let us know!