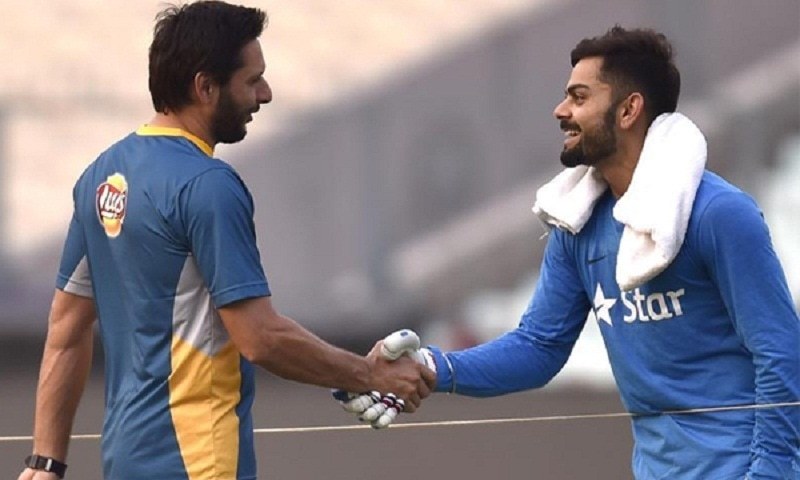 Who doesn't love Lala? Shahid Afridi aka Lala has always been the one to carry our hopes in times when the team would be struggling. His bold chakkas and chaukas have saved us from complete humiliation on multiple occasions.
No matter what his equation with the national team has been recently, Lala's announcement of retirement from International Cricket was heartbreaking news for all cricket fans.
Even the international cricket fraternity is going to miss Shahid Afridi on the pitch, proof being Virat Kholi, Captain of the Indian cricket team, recently presenting Afridi with a gift.
Yes you read that right. Virat Kholi presented Lala with a farewell gift from the Indian cricket team; Virat's own blue jersey of the team, signed by each and every player with a sweet message: "To Shahid Bhai, best wishes, always a pleasure playing against you."
The picture of the jersey was shared on Twitter by sports journalist Faizan Lakhani.
The jersey was signed by Virat Kohli, Yuvraj Singh, Ashish Nehra, Jasprit Bumrah, Suresh Raina, Pawan Negi, Mohammed Shami, Ravindra Jadeja, Bhuvneshwar Kumar, Ajinkya Rahane, Shikhar Dhawan, R Ashwin, Hardik Pandya, and coach Ravi Shashtri from the Indian team.
The gesture has been taken in a positive light by Twitter users on both sides of the border.
Let's hope this warm gesture on part of the Indian team opens gateways and we get to see more positive exchanges between the teams in the future.