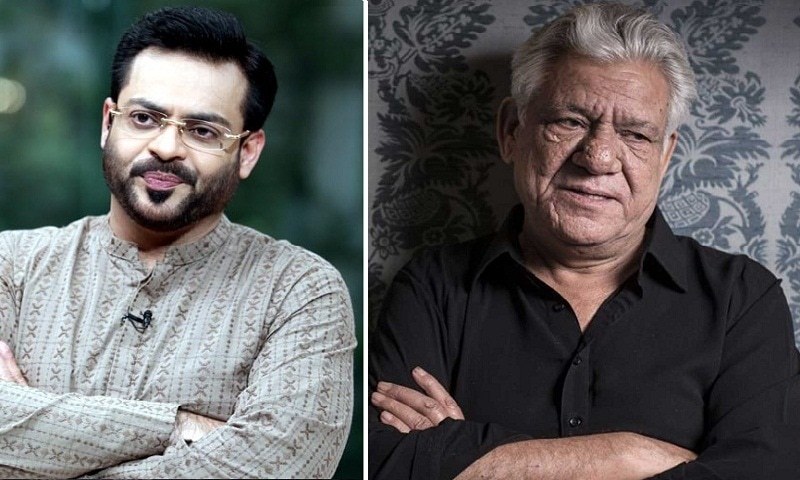 The anchor claimed, Om Puri's ''ghost'' was seen wandering around his house seeking revenge for his murder
Seems like Aamir Liaquat is the male version of the Indian actress/singer Rakhi Sawant. The man loves juicy controversies and it looks like he stops at nothing to get ratings. "Badnaam hongay tu kia naam na hoga" seems to be the anchor's sole motto.
So back to the news at hand, 6th January 2017, marked not only Om Puri's death but also a sad day in the history of indo-pakistan film industry. The artist was respected immensely for contributing in major projects on both side of the borders and his death left a void for all related to the film fraternity, here and there.
But even while the wounds were fresh, this man, Aamir Liaquat, was in search of a topic he could cash on and so he came up with this.
In a program telecast on a respected news channel of the country on 12th of January 2017, Aamir Liaquat, was bold enough to claim that Om Puri's ghost was wandering in his house, haunting the place just to seek revenge for his murder.
And who the murderer might be you ask?
According to Aamir Liaquat, it was Ajit Doval, India's National Security Advisor. In an early report aired by the same channel, Ajit Doval and PM Narender Modi, were accused to be behind Om Puri's death as he had the audacity to speak in favor of Pakistani artists after the Uri Attack tensions.
Although the video is more than three months old, it went viral only recently, when an Indian channel, Aaj Tak broadcast the same video.
Seems like there are people hungry for cheap publicity on both sides of the border. However, we cannot make a claim about Aaj Tak, when there's a fault in our own "stars". Even Om Puri's wife is referring to Aamir Liaquat as a "joker" after the video went viral.
Let's see how the media will react to this video now.
Btw, here's how Twitter has been acting up ever since the re-telecast of the video in India