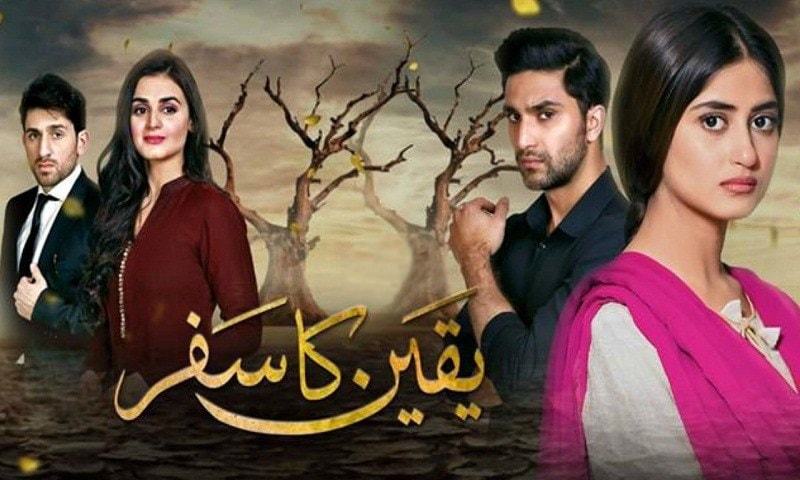 Since it's based on a Farhat Ishtiaq novel, we expected that the drama will have a captivating script. As predicted Yakeen ka Safar started on a very high note. Typically the first episode of any drama serial introduce us with the characters but Yakeen ka Safar proved to be different as it throws light on struggles of each characters and things that will pave the story further ahead. More precisely, the drama will talk about physical and emotional abuse on women.
So the drama kicks off with three different scenarios which will definitely coincide once the story settles.
There is Noori (a school teacher) in the Rab Nawaz village who has been abducted and her father now blames her ambitiousness for her abduction. The man however is shown saddened by the kidnapping of his daughter and wants her to return (he has to maintain a face for the society though) but doesn't say a word because he doesn't consider himself strong enough to face the clans in the village.
Then there is Zubiya (Sajal Ali) in Karachi who has recently lost her mother (Fazila Qazi) and is mourning the loss with the family. It is later shown in the drama that Zubiya's parents' marriage was always on the rocks because of the close-minded nature of his father and she was always the subject of mental torture by her husband.
Lastly, there is some evidence of happiness in the drama when we saw Daniyal (Shaz Khan) and Gaiti (Hira Mani) getting married and the family enjoying the occasion to the fullest. Daniyal has returned after six years of completing his education abroad and is now marrying Gaiti who stood by him for all those year after their engagement, patiently, waiting for him to come back. He also has a younger brother Asfand (Ahad Raza) with whom he shares a strong bond. Unlike him, Asfand is however less mature and looks up to his brother for solutions.
One thing the drama delivered in the first episode was how well suited the situations and casting seems to the story line. Sajal Ali is a powerhouse of talent and her character as Zubiya speaks of suppressed potential that will definitely come out. Hira Mani looks absolutely beautiful as Gaiti.
The promo of the next episode has us hooked because it did show the unease between Zubia and her father but also that there is something hidden about her mother's death. Let's see what the next episode brings for us. Till then, stay tuned.
Read: Yakeen Ka Safar OST is as Simple Yet as Beautiful as They Come