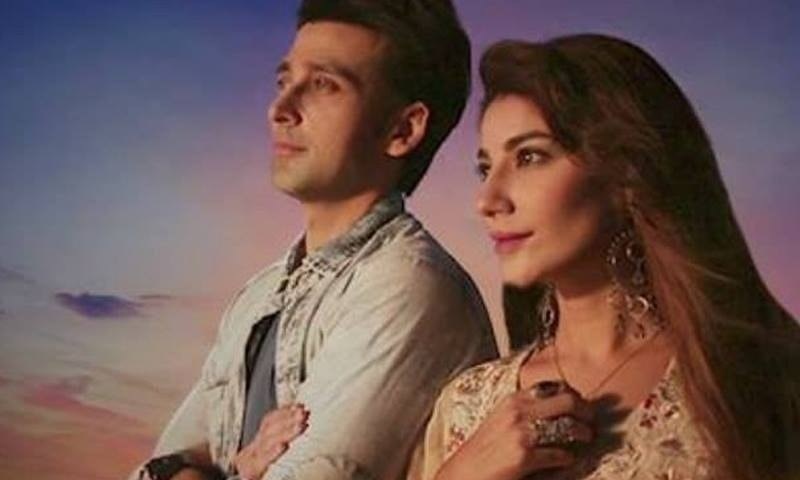 Having begun four weeks back, Beinteha, in a short span of time has managed to grab the viewers' attention. Although the storyline is nothing new or extraordinary, the reason why we enjoy it is because it's a well directed love story by Qasim Ali Mureed. Another attraction is the brilliant onscreen chemistry between Sami Khan and Naveen Waqar. In fact after Rasm-e-Dunya, this is the second play starring Khan we have religiously started following.
Written by Rida Bilal, meaningful dialogues help move the story at a steady pace, making us enjoy that one hour in front of our screens. Last week, Sherry (Sami Khan) managed to gain Bisma's (Naveen Waqar) attention by confessing he was madly in love with her and how she'll always be his top priority, unlike Ali's (Faris Shafi), who prefers work over her. But since she is about to get married to Ali, Bisma is in a state of confusion and doesn't know what to do.
Read : Does Beinteha have all the ingredients of a hit drama?
This week's episode saw Bisma gain the confidence to let Sherry know she loves him too. With the marriage right around the corner, Bisma proposes they run away together. But Sherry, not being that kind of person, decides to take his mum (Rubina Ashraf) to Bisma's place to formally ask for her hand in marriage.
Why Sherry's mother agrees to this is a bit confusing, since she knows Bisma is already engaged. But we guess it's because he is her only son and only wants what's best for him. Before doing so however, she makes sure to give him a deep pep talk, telling her son that what he wants won't come easy.
With Sherry's mother asking for Bisma's proposal, the episode ends with shocked looks on Bisma's parent's faces. Next week's promo suggests that all won't be easy for her, with her family not liking this latest turn of events. Will Bisma leave everything for Sherry? Or will she be an obedient daughter and decide to forget him and simply marry Ali?
Read : Teasers of Urdu1's upcoming drama 'Beinteha' are pretty intense
With all the ingredients working in its favor, Beinteha is a drama to watch out for. Even though we didn't see much of Ramiz (Adi Adeel) in the last episode, he is also a major attraction in the play.
But the star of Beinteha Sami Khan, plays the character of a love struck boy to perfection. An actor we wish would try bringing something different is Faris Shafi who plays Ali, because similar to Andaz-e-Sitam and Sun Yara, he seems to be portraying the same kind of character again and again.
So catch Beinteha for Sami Khan's acting and Qasim Ali Mureed's sleek direction, every Wednesday, at 8 pm only on Urdu 1.