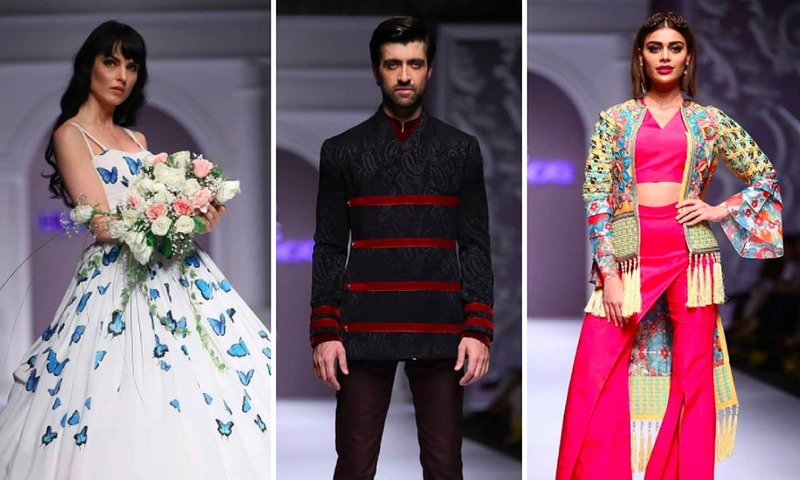 Clothes for every occasion, HUM's very first showcase was one for the books

HUM's very first showcase had a great turnout and a stunning show to display. The Day 1 designer line up included a range of high-end luxury, couture and pret wear and we couldn't help but picture these clothes in our wardrobe in preparation for summer season. So go ahead and checkout what the designers for Day 1 had to offer.
Nomi Ansari
The collection titled "A Night in Paradise" celebrated bold colors and trendy pieces only someone like Nomi can execute. A funky take associated with tropical spring, his designs took inspiration from the characteristics of exotic birds and plants, with tones and hues mainly ranging from shades of yellow. At the end of the show, the stage looked like the perfect must-have summer wardrobe.
Wardha Saleem
"MON AMOUR – BABUSHKA, MY LOVE!" was the luxury collection to wow us with it's ambiguity. Who would've thought eastern wear could have such variety. These exquisite looks were paired with bags having intricate hand details. The colors bright, saturated reds, blues and greens all us Paki's enjoy wearing. With a wide variety of cuts and floral details, this collection is sure to be a winner during Eid season. The collection was said to have been dedicated to Wardha's mother.
Jaazib Qamar
QMobile star Jaazib Qamar's collection 'BIZARRE' certainly lived up to it's name. Emoji pants?! As crazy and fun as they sound, hope we don't see guys wearing them anytime soon. But what we enjoyed was his attempt in making the show look edgier. Models were seen sporting crazy accessories like pipes, metallic matkas and smiley glasses. Most of them also had QMobile phones and at the end, were seen taking selfies with Jaazib himself.
Inaaya
The Tabeer collection served as a gesture of helping others. The simplicity paired with the gorgeous dynamic flow her dresses had, gave a very dreamy vibe. most pieces also showcase geometric patterns to give a more complete look. The sunglasses everyone wore added to the playfulness and created a very casual mood, making this a collection one could sport anytime during summer. We loved how cool the vibe was and the music went really well with the flow of the showcase.
Molina Teli, Deepak and Fahad
The collection titled 'Iris', was the perfect amalgamation of monochromatic colors and geometric shapes coming together. With a wide variety of layering available for men and women, this is for the muted color lover. It was a refreshing change from all the previous exuberant displays, therefore we were truly appreciative of the fact that it was displayed in the middle of the show. The mood seemed a lot more serious and formal but some of the designs, such as a feather print being perfectly continued from a male model's t-shirt to his vest, showed how much effort went in on the measurements.
Al Zohaib Textile Feat. Christina Senter In Collaboration with Maurizio Boscheri
This majestic collection called 'Metamorphosis' showcased Italian tailoring and was a mix of Italian and Mediterranean designs. The eye-catching digital designs and props like leaf hats made the collection look a lot more glamorous than it really was, because the fabric included everyday lawn/cloth. It was an interpretation of volumes and shapes. The pieces were very classy, with hues and tones not being too overpowering, just bright enough to please the eyes.
Munib Nawaz
The collection's main message was to enable people to embrace their unique identities. With a dark and gritty feel while staying in the realm of glamour, the pieces featured muted colors like blacks, dark blues and maroons. We felt some of the female pieces had a hint of masculinity added, for instance the army print inspired pantsuit. Electric as his collection, the designer excitedly jumped up on the ramp to receive the audience.
Faraz Manan
Faraz Manan had the honor of closing Day 1 with his extraordinary 'Mirage', East meets West collection. It was the most beautiful display of heavily embellished garments, perfect for wedding season or extravagant events. The idea was to show the magic created when European and Arabic designs are put together. This was hands down, the most gorgeous display. The intricate details were the show stopper, not so much the designs themselves. They were simple and sleek, but the detailing was so noticeable, and the closer you'd look, the more you'd be amazed. No wonder he was just awarded a LUX style award for Achievement in Fashion Design (Bridal).