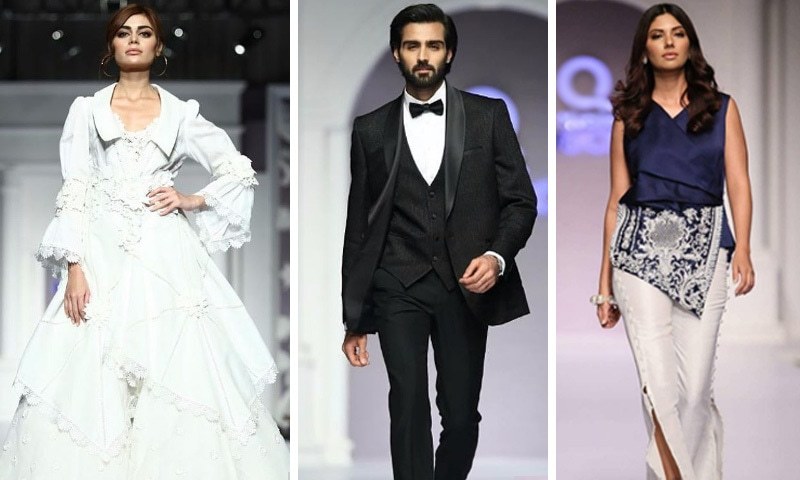 Models continued to heat up the runway on the second day of the QMobile Hum Showcase. The beautifully made and perfectly styled clothing by the five designers will just beg to join your wardrobe. Here is the run down of the collection presented by the designers:
Bunto Kazmi
Bunto Kazmi in the opening act showcased a capsule collection. If you wear her collection or a big fan of 'House of Kazmi' you certainly know that the brand is known for beautifying brides for almost decades. The pieces of fabric was a perfect combo of cultural heritage and modern aesthetics. We loved the striking colors and vintage pieces.
And the main highlight of her act was her adorable granddaughters who walked the ramp too. Aww…
Cotton & Cotton: WAITING TO EXHALE
The models displayed effortlessly dapper and causal style as they walked on ramped in vibrant outfit comprised of colorful floral motifs, paisleys prints and patterns. The collection took inspiration from menswear in the 60s and 70s. So if are a guy who wants something colorful and fun to wear then this brand is the right choice.
Faiza Samee: AUTUMN/ WINTER 2017 - FORMALS
Her collection was based on a journey through Central Asian landscapes and the old world romance of Czarist Russia. We were amazed when we heard and saw that the dresses were made by hand using artisanal techniques and specialist embroideries. The lovely feminine royal colours such as saffron, silver, gold on lenghas, shararas and embroidered pants paired with elaborately detailed long tunics looked majestic on the ramp.
Adnan Pardesy: ENTWINED
Going for the gold isn't just a slogan for the Olympics Games; the gleaming metal is dominating fashions this summer. Adnan Pardesy knows how to turn clothes into art. His collection was a fusion of old and new. Origami inspired patterns, using gold appliqued gota on black & crème fabric looked outstanding on the runway. To be precise, the fashion powerhouse, Adnan Pardesy didn't disappoint us.
Rizwan Beyg: LACE COUTURE
So, are you big fan of Chanel, Dior or Valentino? If YES, then you will love his collection. Beyg paid homage to his fashion legends by drawing inspiration from them. The white angelic collection comprised of voluminous A-line trailing skirts, variation in trousers and lace motif as well as lace flowers. It was so soothing to our eyes when we saw all the models walked on the ramp in the snowy-white dresses. His collection is definitely a must have.
Ideas by Gul Ahmed: MIDNIGHT OPULENCE
The colors, the brightness, the embroideries pay homeage to sophisticated details of Renaissance tapestry. So, the outfits were blend in tones of deep blue, indigo and white with exuberant embellishments of bugle beads, pearls, resham and crystals that drew every hip girl to the label back in the glam-rock way.
HSY: LOVE LETTERS
HSY went for a love inspired show, which we personally adored. The collection was a tribute to lovers who were isolated as they choose to serve their country. The postage stamp imagery and handwriting on a mustard and ivory color base was perfect depiction of a love letter written on time worn paper. You will cherish the collection if you love wearing memories.
Which was your favourite collection? Let us know in the comment below.