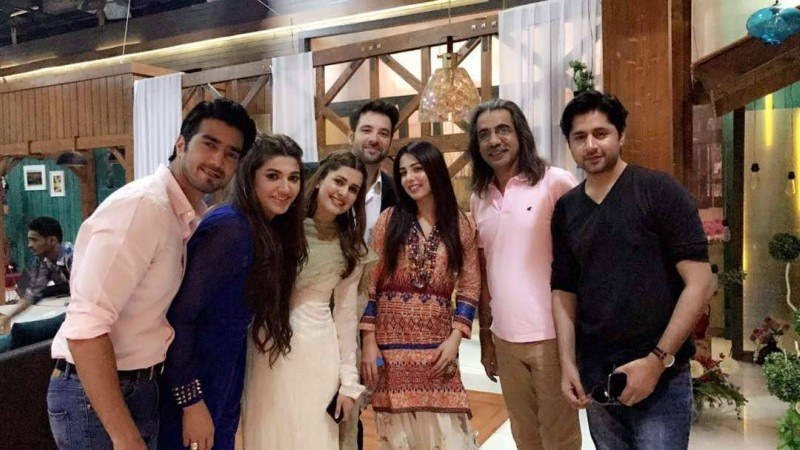 Imran Ashraf as a eunuch and Ushna Shah as a beggar, the first episode had stellar performances.

If there's one drama we've been eagerly waiting to watch since we spoke to Mikaal Zulfiqar, it's Alif Allah Aur Insaan. Written by Qaisra Hayat and directed by Ahson Talish, last night we witnessed its first episode on Hum TV. Where we expected Zulfiqar to shine the brightest, the stars that stole the show happened to be Imran Ashraf and Ushna Shah, who were simply amazing in portraying the roles of a eunuch called Shammo and a beggar called Raani.
The first episode focused on the characters and their stories, and based on a variety of people in this particular episode, we met Raani (Ushna Shah), who is forced to beg by her father, played by Saife Hassan. He is a strict man and does not spare her, even if she falls ill. Raani is pretty feisty, a trait we saw when a couple of boys were seen making fun of Shammo because he was a eunuch and earned money through dancing.
Read : Mikaal Zulfiqar gears up for a new play called Alif Allah
Saving and lecturing him on why dancing was bad and why he should earn honestly, Shammo takes Raani's pep talk to heart. He begins to like her and he is seen trying to make an effort to figure out how to earn an honest living. But he's constantly reminded that no one would ever give him a job. When Shammo had been bought to live with the eunuchs, he was young and raised by Nargis. But naturally, one is influenced by the environment they live in, hence he became a eunuch too. He longs to break free from this lifestyle.
Shammo is played brilliantly by Ashraf. Hats off to him for getting under the character's skin so well, it makes you forget that it's Imran Ashraf you're watching.
Moving ahead, we also met Nazneen (Kubra Khan), a spoiled brat whose wishes are fulfilled by her father Malik Sahab (Usman Peerzada). With her sister about to get married, Nazneen may be over the moon but is quite vocal when she sees the eunuchs coming and dancing at the wedding. She insults Shammo and gets a baddua from him. Nazneen is not bothered, despite being told by her mother not to insult them!
Read : The Teaser Of Alif Allah Aur Insaan Makes Us Want To See It ASAP
We saw very little of Mikaal Zulfiqar in the first episode. He plays Shahzeb, a wealthy man who sees Nazneen at the wedding and wishes to marry her. Next week's promo suggests he is not as decent as he seems. Sana Fakhar, a dancing girl who is in love with him will make her entrance. Now how she knows him or whether this is a one sided affair are all questions we get answers to next Tuesday at 8 pm .
Off to a good start, Alif Allah aur Insaan has the ingredients to become a must watch drama, which we've definitely added to our list.