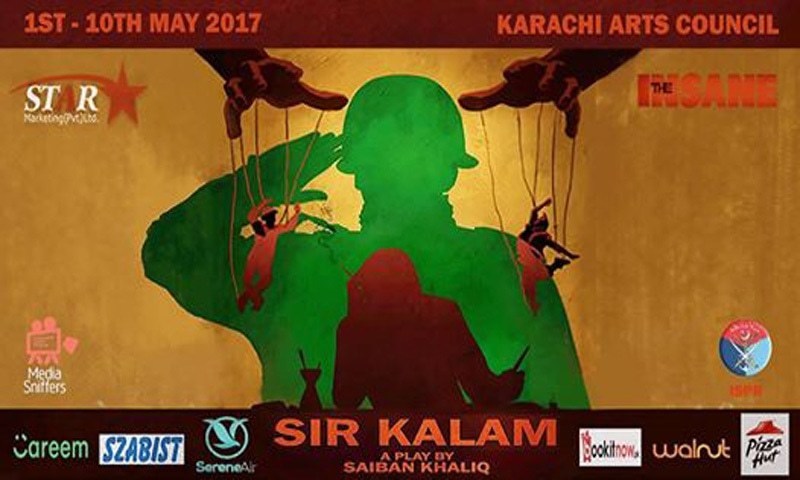 A dark comedy theater play by Saiban Khaliq.

After a successful run in Islamabad, The Insane Productions brings you SIR KALAM, a dark comedy theater play by Saiban Khaliq, produced by ISPR which is to be performed at the Karachi Arts Council, from May 1st to 10th.
The play stars Shamayale Khattak, Aymen Shuja Zuberi, Sardar Osman, Zainab Raja, Tayyab Anwar, Sarmad Bashir, Saiban Khaliq and Wasiq Ali Zia. A famous playwright, Mansoor Kalam, shares the secret "formula" of becoming a successful playwright in Pakistan. He shares this "formula" by giving examples of 3 of his award winning screenplays. While he shares this technique, he is confronted by an obsessed fan who makes Mansoor Kalam wonder; "Can a story, change someone's life?" This is a story of a commercial playwright who writes meaningless and overly glamorized stories that only serve the purpose of making money.
Saiban Khaliq, director/playwright for 'Sir Kalam' commented: "It's an ecstatic feeling to be able to bring my 9th theater play for all of Karachiites to enjoy."
Khaliq has taken his theatre plays across the nation on multiple occasions. Having previously written and directed 9 theatre plays, he now brings 'Sir Kalam' to the Karachi Arts council. The play begins on the 1st of May and will continue till the 10th of May.