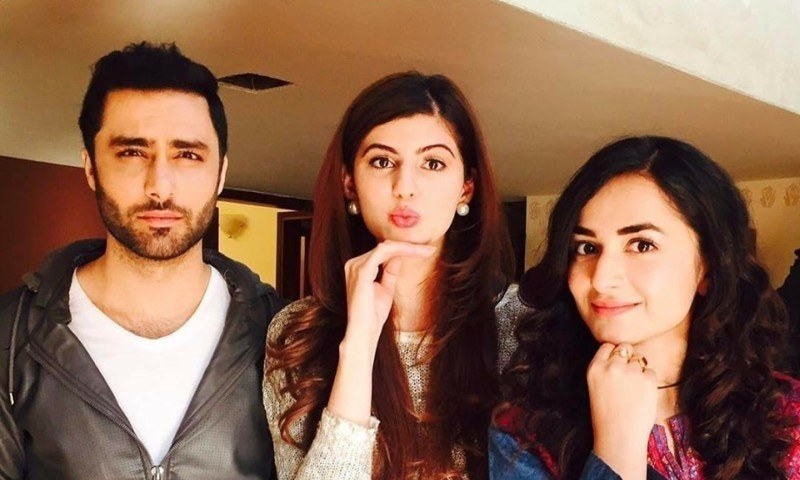 The question remains; can great actors save a weak script?

When it comes to Monday nights, we are overwhelmed with choices thanks to a list of amazing plays airing. There's Sun Yara as well as Khaali Haath, but having seen both in the past few weeks, last night we decided to switch to Hum TV and update ourselves with all that has happened on Yeh Raha Dil. We're glad we tuned in because the story has moved ahead, with the twist being Hayat having a step sister!
In case you haven't seen Yeh Raha Dil, let us brief you about the story so far.
Read : 5 Reasons We Love The Teasers Of HUM TV's Upcoming Drama 'Yeh Raha Dil'
Zaki (Ahmed Ali), is madly in love with Nida (Anam Ahmed), who is a model, and Zaki's father does not approve of her. Annoyed at his father's behavior, he decides to go abroad for a while, hoping his father will miss him and end up saying yes to marriage with Nida. But during the flight he bumps into Hayat (Yumna Zaidi) again, and from there begins their rocky story. But before you know it, Zaki falls for Hayat!
Coming back to last night's episode, as we said, Hayat now has a step sister, who turns out to be Nida. Hayat's father had left them to marry Nida's mother, played by Ayesha Sana. With him having no contact with Hayat for the past 20 years, suddenly, he decides to re-enter her life. Initially she wanted nothing to do with him, but upon Zaki's insistence she decides to meet him, preferring to maintain distance. Nida is not pleased with Hayat or Zaki's friendship with her, which is why we see her trying to come up with a plan to make everything work in her favor.
Hayat teaches at a school, where she continues to be her fun self. At times though, the chirpy girl image comes across as too much for Yumna Zaidi. We have always seen her in sober roles which is why the acting looks a bit forced. With Zaki not wanting to marry Nida, he confides in their common friend but later tells him not to say anything. Since that is not possible, he ends up telling Nida what is going on in Zaki's mind. Not pleased with the latest development, Nida is hell bent to make sure Zaki only marries her. Now whether that will end up happening or not is what we look forward to finding out next week .
Read : HUM TV drama 'Yeh Raha Dil' continues to be a drag!
Written by Mustafa Afridi, although the story has no evil plotters or over dramatic situations, at times it lacks an interesting plot. Even after 13 episodes the drama fails to grab your full attention. Had the script been more gripping, Yeh Raha Dil would have definitely been on top of our must watch list. The only exciting thing about the play are its actors Yumna Zaidi and Ahmed Ali, who in the past have given memorable performances together.