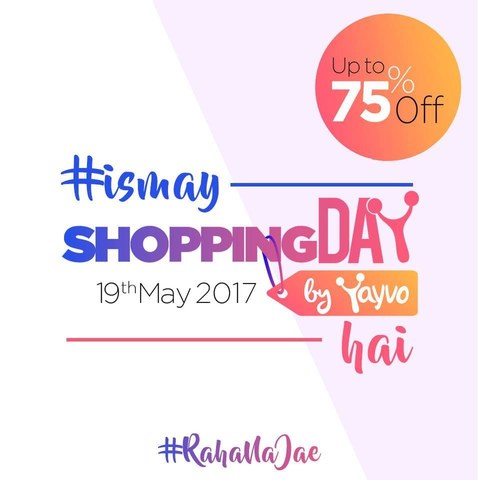 With Black Friday having become an annual trend in Pakistan, people's expectations have risen when it comes to shopping. One of the main controversies surrounding the concept of Black Friday is its western influence. Black Friday is celebrated the Friday after Thanksgiving, which is an American tradition. The thought of Black Friday intrigues us shoppers, I mean who wouldn't want to celebrate a day where everything is on sale? But every year, not just in Pakistan but all over the world, Black Friday proves to be chaotic and violent. People wait in line for hours, most of them don't even end up getting what they want, shops are trashed, in some cases even people. Things get out of hand within seconds and most people just leave unsatisfied.
The recent '#IssMay Kia Hai' black box campaign that went viral this weekend, was just the tip of the iceberg. It did a great job highlighting the hidden pun of the month May, to reveal "Iss May Yayvo Shopping Day hai." That's right, Yayvo will introduce Pakistan's first Shopping Day, starting May 19th! Due to take place a week before Ramadan, by simply browsing Yayvo, you can avail the best deals on products ranging from smartphones to cosmetics and Eid apparel. Expect discounts to go up to 75% off!
Let's face it, we all go a little haywire when Ramadan starts. Malls are constantly crowded, as we're all desperately trying to score the best deals for Eid shopping. Yayvo's Shopping Day will be celebrated annually on a grand scale. Brands, retail stores, salons and eCommerce players from all across the country will participate in the event. And the best part? No more strategic planning as to when to step out of the house to shop! You'll be present at the event with just the touch of a button. So keep your phones charged on May 19th because Pakistan will witness its very own unique online shopping event, which aims to become an yearly ritual. Trust us, you're not gonna want to miss out on the biggest sale of the year.
For more information, click on the links below to find out more about the Yayvo Shopping Day.
Yayvo Shopping Day Facebook Event Page