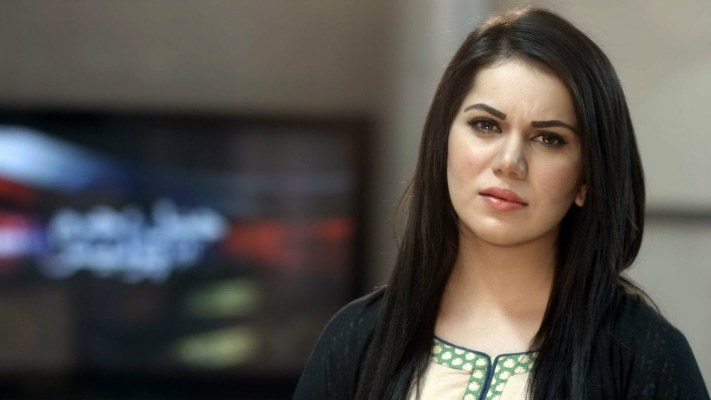 Bad, bold and loud, the girl who stops at nothing when it comes to getting what she wants, are all definitions of roles Ghana Ali tends to play on-screen.
But things are about to change. The actress has been roped in by Geo to play the protagonist in their upcoming drama serial Sawera. Ghana will be seen playing a titular character in the drama. It is set to air soon and will show Ghana Ali in an entirely new light, something she hasn't done on screen before.
HIP spoke to Ghana about her upcoming character,
"I play the character of Sawera and yes it's entirely different from what I have done so far. This is your typical desi-bahu character. But yes, Sawera isn't the regular cry-baby type bahu, who does nothing but appear 'bechari', bears all the 'zulms' with all the 'rona dhona'. Instead, Sawera is a girl who strongly believes that Allah will end all her hardships and give her everything she has ever hoped for."
"Sawera has firm belief in Allah, that He will set everything straight for her. She cries in a corner, where she can talk to Allah and share everything. Although when I read the script, Sawera's character came out as the 'plain jane' who doesn't talk much and bears everything that comes her way. Her favorite pastime being shedding tears. I liked it because it was different from what I have done so far, but that's not why I settled with her character. With Sawera came my own improvisations. I sat with the writers and made sure she would come across as a woman who had her trust in Allah and his mercy."
When asked about her experience playing Sawera, a positive character, Ghana candidly mentioned,
"I like Sawera but goody-good characters are no fun. They're boring. It's definitely something different and challenging but to me, they aren't much fun. Playing a positive character isn't difficult, I played positive characters in Rangreza and Maan Jao Na and it wasn't difficult, but the crying is what didn't come naturally at first."
Ghana Ali has been portraying a lot of negative characters lately. She loves playing the bad guy, and mind you, she's quite good at it. Playing a protagonist in Sawera will show Ghana Ali in a completely different form and we're excited to see how she'll come across in the new drama serial.
Read: HIP Exclusive: Ghana Ali to play the 'bridge' in Rangreza