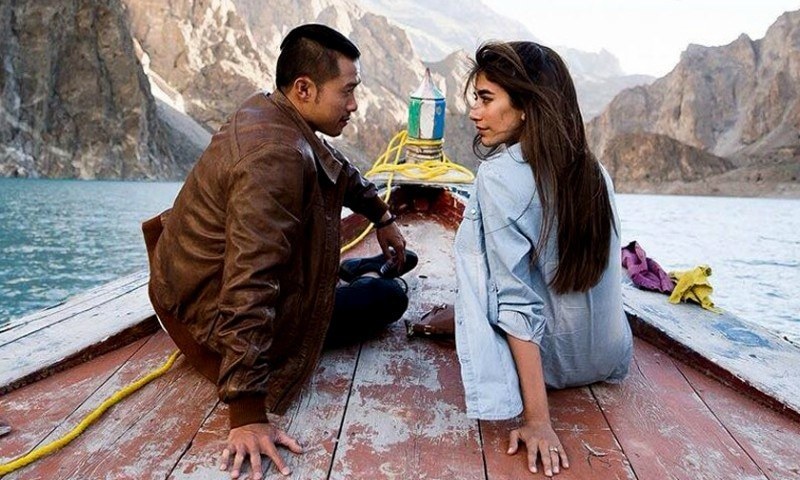 A few years ago, if I were asked to describe Syra Shahroz, the phrase 'girl-next-door' would have fit her like a glove; however, the starlet has undergone quite a major transition recently. She can be an absolute red carpet diva stealing everybody's thunder under the same roof as her, she walks the runway like it's nobody's business, she puts bloggers and fashionistas to shame with her adorable Instagram posts and it won't be incorrect to call her the country's sweetheart.
Shahroz takes the lead as Resham in the recently released Chalay Thay Saath alongside Canadian-Chinese actor, Kent S. Leung, Mansha Pasha, Osama Tahir, Faris Khalid and Zhalay Sarhadi. However, severely negative reviews and disappointing box office figures have left a bad taste in her mouth.
She is about to wrap up filming for Project Ghazi, labeled Pakistan's first superhero film, which also features Sheheryar Munawar, Humayun Saeed, Adnan Jaffer and the veteran, Talat Hussain in titular roles.
Amidst all the hustle and bustle, HIP caught up with Syra to talk about the future of local cinema, the madness that goes on behind the lens and what went wrong when it came to undeniably the most anticipated film of the year. Excerpts follow:
Also Read: Trailer Review: 'Chalay Thay Saath' seems visually and emotionally captivating!
HIP: Actors can be extremely insecure, especially when there's an ensemble star cast, like you had for Chalay Thay Saath. Tell us how you tend to tackle negative vibes on set.
SS: I cannot have drama or tension on set ruin my performance. I'm the kind of person who doesn't react instantly, I observe a lot. If it's unnecessary and it is just there because of insecurities, then I will definitely take a stand against it. My circle of friends is not from the media, but if I do get along with someone, then I'm more than happy to continue the relationship. But if the other person can't stop being insecure, then I keep my distance. When it came to Chalay Thay Saath, we all knew what we had signed up for. It happens, all you need to know is how to deal with it. I just don't believe in getting into cat-fights and brawls for nothing.
HIP: Do you think the language barrier between you and Kent affected your chemistry on or off screen?
SS: Kent is a Canadian national, so he speaks English like it's his first language. The fact that he did not know Urdu added so much more to our characters on-screen. It brought out the chemistry even more, since most of the scenes demanded him not understanding what I was saying so that came out naturally.
Also Read: 'Chalay Thay Saath' Fails To Live Up To Hype
HIP: How different was Resham from the characters we've seen you portray previously?
SS: I've always tried to do different characters with every project I take up. From Mera Naseeb or Bilqees Kaur to Coke Kahaani, I've always made sure that they're different from one another – for me as a performer, as well as for the audience because I hate when actors are typecast in certain roles. I like exploring myself and giving the viewers different versions of what I can bring to the table. I think we actors are very lucky, we get to live so many lives and look at things through a different perspective each time.
I also think I disconnect from my characters very quickly. When I go back home, I make sure I am myself. I have moments where I carry some of the facets of my characters, especially during the emotional sequences, but overall, for me, it is actually very easy to switch-off and back on. I do look for myself in my characters to be able to relate more, but I don't think I'm a method actor. I know I've been there though, I remember with Mera Naseeb, which was my first acting job, I had no clue what I was doing, and people on set started noticing I behaved exactly like Nazia, the character in the serial.
Also Read: Syra Shahroz's debut film 'Chalay Thay Saath' is about finding love
HIP: Screen presence is widely spoken of, especially in Pakistan, where most television actors turn to the silver screen. How did you feel during your transition from television to cinema?
SS: I did what I always do, I followed my instinct. Indeed, it was a major shift because you shoot differently for a film. It's a larger than life sort of experience. There's a set pattern followed for drama serials. Whereas, with Chalay That Saath, since we mostly had single takes, we rehearsed extensively and kept queues in mind in order to execute a certain scene naturally. So the entire process was very grueling on many levels, to say the least.
As an actor, I don't want to limit myself. You simply have to overcome challenges because that's what sets you apart from everybody else. Also, I think an actor's success is determined by the challenges he or she takes up.
HIP: Most recent local releases have failed to leave an impact – commercially as well as critically. What do you think is the reason behind that?
SS: We need to be original. We need to figure out what our audience expects from us and give them reasons to come watch Pakistani films in cinemas. And that will happen through hits and misses. Right now, we either have young filmmakers or veterans. And I think we need to have collaborations among both, so that we have previous experience gel with new and fresh ways of filmmaking. Hence, one will be able to explore all that can be done. My interaction with Syed Noor has been more frequent than with any other director of that era, because as Shahroz is doing his film, I see he's very open to contemporary ideas. But that doesn't change the fact that most of them need to understand that what they sold back then won't necessarily sell now.
HIP: It's believed filmmakers try to cash on actors who haven't had hits in the past and generally. Have you ever turned down a film because they weren't paying you enough?
SS: I have complete faith because I know there will be another one. However, the question is, will I let them cash on me? If I get an offer that I'm able to connect to really well, then I won't be really concerned, monetary wise. However, I don't compromise on the commercial aspect. You need to set your own worth, you cannot let people tell you what your value is. Nowadays films don't pay that much, but then I've also been offered a few recently who were literally offering peanuts. Had the script managed to touch my heart, I might not have been as persistent.
Also Read: Jami Disapproves Of Item Numbers In Films
HIP: Are item songs something you would like to stay away from?
SS: It's about how you do it. It's very upsetting to know women are used to sell their bodies this way. However, more often than not, songs here in Pakistan are mostly Mehndi-based tracks. I don't believe a movie needs an item song to become successful; it's just been set as a bar for entertainment. On a whole, it's not an issue for me, but if they demand me to be vulgar, then that's off limits.
HIP: It's public news that you've rejected a number of international projects, including a British film alongside Sir Ben Kingsley. What's your general take on the trade of talent?
SS: I turned them down because either they were being offered to me at a time when I wasn't able to take up work or the work wasn't interesting. With the British film, the character was too bold for my liking. The role was of a mistress', which was fine, but to me what matters is how I'm visually portrayed. I remember I didn't even finish the entire script because the opening sequence itself was extremely bold. Even in Pakistan, the reason and level of intimacy on-screen has to be discussed. For me, everything needs to be justified.
To answer the second part of your question, I think actors should be able to try out different avenues. But when such issues are made out of it, you need to remember you are representing your country. We can't deny that whatever we are is because of our country, we are recognized as Pakistani actors when we travel, so we do have some sort of responsibility on our shoulders therefore we must stand up for ourselves. No project or collaboration is above that.