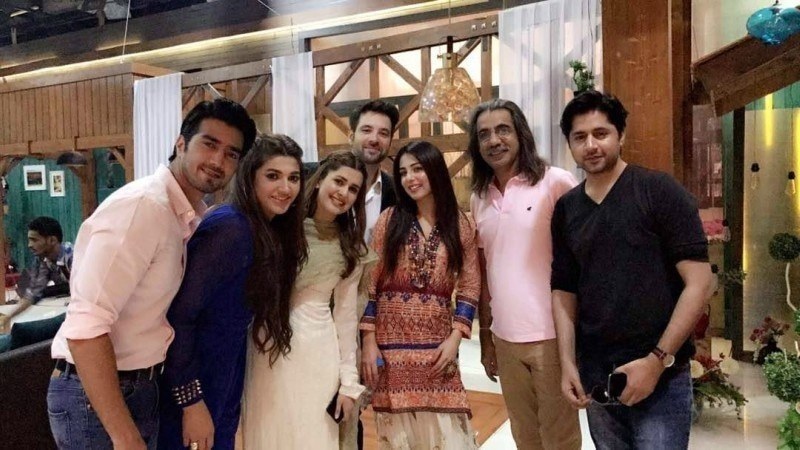 If there's one person who has impressed us from the start, it's Imran Ashraf, who plays the eunuch 'Shammo'.
Having spoken to Mikaal Zulfiqar when he began shooting Alif Allah aur Insaan, we liked the concept behind the drama and the fact that Ahson Talish was directing it. The show has been on air for the past three weeks and we have already become huge fans, since the story isn't limited to one family, but revolves around a number of characters.
This week's episode showed a different side to Shahzeb (Mikaal Zulfiqar), who has gotten engaged to Nazneen (Kubra Khan), not knowing he resides in a courtesan's heart who is Nigaar (Sana Fakhr). Nigaar finds out about Shahzeb's engagement and is left heart broken.
Read : Sana is excited for her upcoming drama titled 'Alif Allah aur Insaan'
Nazneen isn't pleased with her parents saying yes to Shahzeb's proposal, so she decides to go and meet him with help from Basit (Shehzad Sheikh), to try getting herself out from the likes of marriage. She tells him she wants to study in the city. Shahzeb not wanting to upset Nazneen, allows her to study in the city and prefers to postpone the wedding much to Nazneen's delight.
Nazneen is glad everything went the way she wanted. On the other side, we see Nigaar going to meet Shahzeb, but upon meeting him, all she receives are insults, being reminded that a courtesan's heart never belongs to one person and that he's never loved her.
If there is anyone impressed by Nigaar, it's Raani (Ushna Shah), who wants to be just as glamorous as her. Not aware of the kind of work Nigaar does, Raani is seen being too enthusiastic to work for her, when she randomly sees her on the road. Will Raani turn from a beggar to a popular courtesan is what we hope to see in the coming weeks.
Read : Alif Allah aur Insaan Has An Impressive Start
Ever since Alif Allah aur Insaan began there has been one actor in particular who has impressed us immensely and that is Imran Ashraf as the eunuch called Shammo. With him having left his home to earn a decent living, Shammo decides to let go of his long hair and get a boyish look, so finding work becomes a bit easier.
What works in favour of Alif Allah aur Insaan is that it has some very meaningful dialogues written by Qaisra Hayat. This particular play is a beautiful tale of many characters, who are trying to deal with emotions in some form or the other. Shahzeb looks like a guy with many secrets and where Nigaar might dance to earn a living we have a feeling her story is going to be a heart wrenching one.
If we talk about the acting bit this week then Ushna Shah, Sana Fakhr and Imran Ashraf were the definite highlights, as they've attempted to step out of their comfort zone to try and do something different for a change.
With an interesting story and a great star cast Alif Allah aur Insaan has us hooked and that is why we will continue to watch it till the end, on Hum TV every Tuesday at 8 pm.