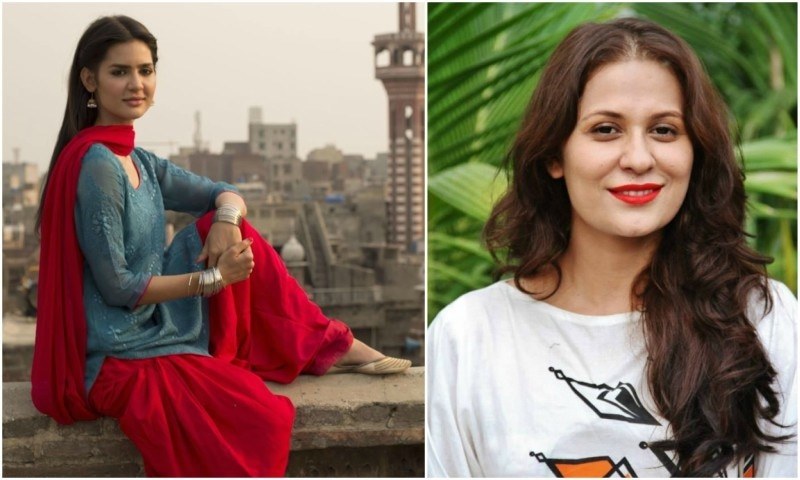 Dugdugi famed Nausheen Shah and VJ-turned-actress, Madiha Imam, who is gearing up for her Bollywood debut with Dear Maya spoke to HIP about their upcoming untitled serial. Both of the starlets were generous enough to share spill all the minor deets for us. Excerpts follow from our delightful conversation:
"The name hasn't been decided yet. It is either Zoya Saleha or Rait K Phool," Nausheen shared. "It's a story of two sisters. One is a go-getter, she's smart and a fighter, and the other is very calm, relaxed, indecisive, but mature and perhaps an over-thinker. I play the latter, named Dur-e-Shehwar. She evolves over time, according to the situations that occur. She is very loving, caring, and protective, despite being in a troubled marriage. You'll see a lot of her facets in the serial."
Madiha, on the other hand, chose to stay tight-zipped about the plot, but gave us an insight into the world of her character. "My character is called Zoya Saleha. I'm playing the younger sister. She's not exactly an extrovert, but she is outgoing, she wants to change the world. Ali Safina plays my cousin, son of my late father's elder brother and I can never get along with him. My character is more distinguishable there; I want to study law, I make an effort to get back our house which is under the clutches of my taya abbu," she revealed.
"I'm playing a character that is independent, someone who loves with all her heart. She's engaged to a cousin who she likes, however, her fiancé cheats on her, forcing her to get inside a dark shell. However, not all is bad because you know what they say: there's always sunlight waiting at the end of the tunnel. The key thing about her character is that she cannot see wrong being done to people and I simply love that about her," Imam further added.
"The story is basically about the internal fights and the inner struggles women go through. How important it is for every individual to find the solution to their problems, and how it is their right to do exactly that," Madiha continues.
We asked Nausheen her experience of filming the project, "I thoroughly enjoyed the entire process, and I had a lot of fun on the set while shooting. I can only recall one previous project which I enjoyed this much. It was with Sarmad Khoosat. I went through all the aspects before signing this project; the director, Najaf Bilgrami is without a doubt, brilliant at what he does, in fact the entire crew - the writer, and the production of the serial, everyone's been very accommodating."
Read: Madiha Imam's Overflowing Youthful Spirit in 'Dear Maya'
Apart from Imam and Shah, the serial features Ali Safina, Wahaj Ali, Manzoor Qureshi and Adnan Jillani in titular roles, while it is slated to be aired this Eid on Geo Entertainment.
On a parting note, we discussing co-stars, Nausheen commented, "All of my co-stars are amazing. Madiha is a like a family to me, it's a blast with her on-set. Working with Wahaj was a nice experience. Ali is a great person and a dear friend as well. Working with Adnan Sir was a huge learning experience in its own."
Seeing the excitement of both the actresses and the strong plotline that has managed to intrigue us, we cannot wait ourselves for the serial.