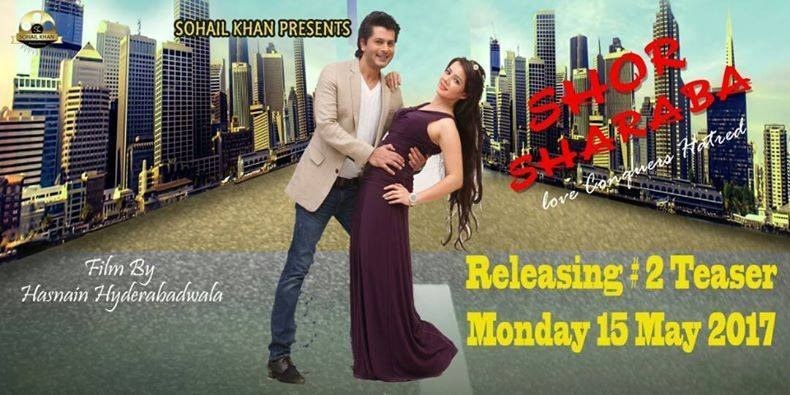 Instead of anticipating, we're dreading the release of Rabi Pirzada's film, 'Shor Sharaba'.

The Pakistani film industry continues to take baby steps towards its growth. But it's in everyone's best interest if some steps are left to the professionals.
Indian director Hasnain Hyderabadwala, the guy behind The Killer's (which constantly reminded us of Tom Cruise's Collateral) is back with another film. We're honestly not sure whether to look forward to it as the film stars Rabi Pirzada, Meera and Adnan Khan.
The writer and the producer of the film is Sohail Khan, whose Facebook page credits him for Emraan Hashmi's Jannat, Awarapan, Humayun Saeed-starrer Jashnn and Meera and Ashmit Patel's Nazar, as a writer and/or producer. Upon thorough research, we didn't find any trace of Mr. Sohail on any of the projects. Jannat is written by Sanjay Masoom, Awarapan and Jashnn by Shagufta Rafiq, and Nazar by Mahesh Bhatt.
Moving along, Rabi Pirzada was already bashed for her last experiment, unapologetically murdering NFAK's Rashq-e-Qamar. But let's focus on the film's latest teaser.
Firstly, girls coming out of the pool wearing next to nothing? That is a sure sign the film is bound to be a flop, story wise at least. Yes to our surprise, this Pakistani film's 27-second long teaser is torture to the eyes, having 'bad production' written all over it. Adnan Khan seems to be enjoying the rain quite a bit, because that's all he's seen doing. Overall, the teaser fails to intrigue us. We thought maybe Meera Ji would light up the screen but she was nowhere to be seen. Though she is on the poster (which looks just as bad).
With such poor looking production value, we asked ourselves, is this film to be taken seriously? Only time will tell.