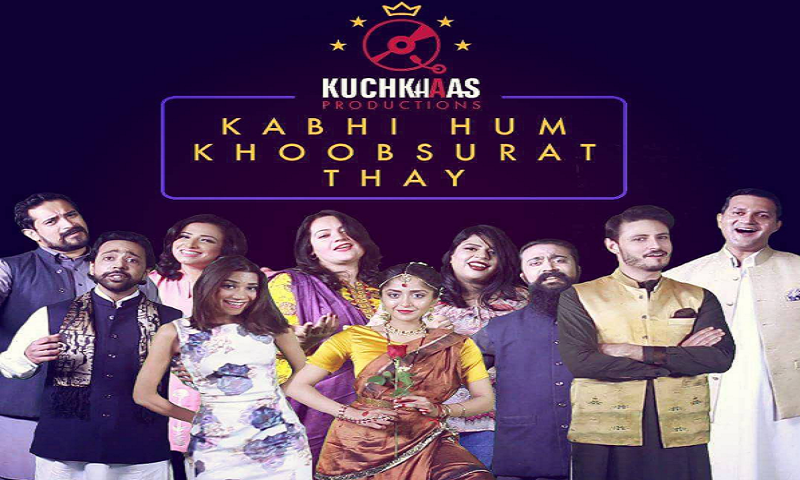 'Kabhi Hum Bhi Khoobsurat Thay's' rendition by Kuch Khaas Productions was sung by 9 vocalists, with OKB as the lead.
Be prepared to get a hold of a few tissues because this beautiful song is sure to tear you up. Yes, Kabhi Hum Bhi Khoobsurat Thay's rendition by Kuch Khaas Productions, is magical for Mother's Day.
Nine vocalists from Islamabad came together to pay tribute to mothers, produced by Sarmad Ghafoor and Natasha Ijaz, the song featured Natasha, Sarmad, Zain & Zohair Elahi, Zainab Qaiserani, Fatima Shakeel, Shandana Sarmad, Danish Qureshi and Osman Khalid Butt. Together, the entire team created a magical cover of the haunting Nayyara Noor track, seguing it into an original piece that left us promising we'd tell our moms how much we love and appreciate them more often.
Listen to the beautiful song below:
To know more about his experience of recording such a soulful tribute to moms, HIP got in touch with Osman Khalid Butt, who has effortlessly performed the lead and harmonies for the song.
"Kuch Khaas has promoted and given a platform to artists since its inception. I have done numerous things, whether it's poetry readings, comedy sketches with the Insolent Knights, editing for their online magazine, dancing, theater directing or acting. So I was approached to sing, having sung for their open mic nights with Fatima Shakeel before", Osman mentioned.
"Initially I had reservations, because I am not formally trained for Broadway workshops. But Kuch Khaas, along with the excellent co-composers Sarmad Ghafoor and Natasha Ejaz, convinced me and got me to perform the lead and harmonies."
"When I first heard the demo recording, I knew I wanted to be part of it. It was a beautiful, haunting cover that segued into an original piece. The 'Kabhi Ham Khoobsurat Thay / Haan Tum Khoobsurat Ho' transition is absolutely beautiful." Osman further added.
"Having lost my mother, I often find myself thinking, I didn't tell her how much I loved and cherished her, as often as I should have. Even though on an intellectual level we realize our mothers' sacrifices and pure, unconditional love, we don't articulate those thoughts enough. By being a part of this song, I wanted to acknowledge those sacrifices in an open love letter to moms."
"The experience itself has been wonderful. I would like to credit my sister, Michelle Tania Butt, for conceptualizing and bringing this about, Natasha and Sarmad bhai for the gorgeous melody and for giving nine talented singers their shining moment. And also for their faith in me. I really loved singing this, it was an extremely emotional experience", Osman told HIP.
With this beautiful rendition of Khabi Hum Bhi Khoobsurat Thay, let's celebrate our mothers and everything they have given us and let them know more often, "Haan Tum Bhi Khoobsurat Ho".