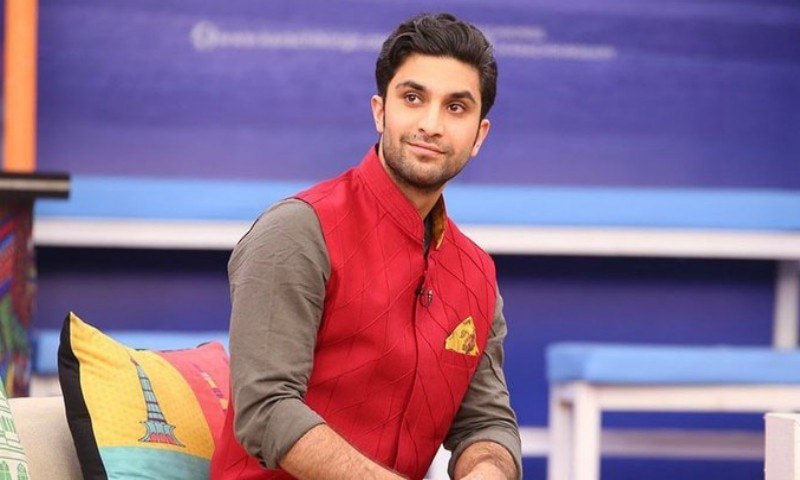 Rising star Ahad Raza Mir shares his story, his responsibilities and experiences in the industry so far.

Ahad Raza Mir, a young, talented and hardworking individual bears a strong legacy behind him. He is not only gradually proving his mark in the industry but also striving hard to meet expectations attached to him.
The young star gave a commendable performance as Salar in Sammi and he is now winning hearts as Asfandyaar in Yakeen Ka Safar. But that's not all for Ahad, this year the guy is on a roll, as next he'll be seen in the massive project Parwaz Hay Junoon, alongside a star studded cast and he is also working on two major films with his father, the veteran actor/producer, Asif Raza Mir.
And so HIP got in touch with Ahad to get to know more about what he's been up to, his future plans and life in general.
HIP: So Ahad, how has the industry been treating you so far?
Ahad: It's been great. The best part of this industry is it's very welcoming and I've been made to feel welcome by a lot of people here. Made a lot of friends as well. Even though it's just the start of my career, I do feel I'm finally where I belong.
HIP: Ahad, having Raza Mir attached to your name may seem like nepotism got you where you are today. Did it make your journey easier?
Ahad: I have Raza Mir label attached to my name, and I carry it with a lot of pride. But no, I do not believe that's how I got to where I am. I have proved my mettle, pushed myself hard enough to get roles. My father has never got me any roles. I've auditioned and have been lucky to land the roles I've been playing.
I came back from Canada in August after my BFA in acting, directing and writing. Having done a lot of serious and musical theatre in Canada, I was actually preparing myself for the industry back home. I even bagged the award for Best Actor in a Musical in Canada, being the first desi to do so. So yes, I can say with pride that I have worked hard to get my roles.
HIP: But still don't you think being a "star kid" maybe made things easier? Isn't there some sort of luck playing a part in your career?
Ahad: There's always a bit of that right place, right time scenario and yes, I've been lucky in that regard. I've been lucky to have the legacy of Raza Mir attached to my name but it's also unlucky at the same time. I get compared to my father. Of course he has set a bar, being the tremendous actor he is, but my career is just getting started and its quite unfair to be compared at this point. Yet I have a responsibility that calls for me to prove myself and give everything my 100%.
Yet, I've been lucky be here. MD (Momina Duraid) has followed my career from the beginning. She knew I went to Canada to study acting and she was the first person I called when I got back. Even then I didn't just land roles. I auditioned for each one of them and it's fortunate on my part that I was found fit for the character and that there were people willing to risk investing in me.
HIP: Ahad, you said you did quite a lot of theatre and other performing arts in Canada. Even received accolades. If that was the case, why didn't you stay there? Why come back home and join the Pakistani industry, when most aim to go to Hollywood one day?
Ahad: Why come back home? I'd say why not? We have recognition here. My grandfather, my father created their legacy here. There are very few legacies in Pakistan and being a part of my family, I felt it was my duty to return and carry the legacy forward to the best of my abilities.
HIP: Did you always plan on becoming an actor?
Ahad: 100%. It was the one thing I was sure of. I had this dream and I even went to a performing arts high school. I tried my hand at BBA as well but nothing was fulfilling so I went to Canada for my BFA in acting/directing and since then it's like I've found my purpose.
HIP: Let's talk about Parwaaz Hay Junoon. How did it come about and how has it been?
Ahad: Initially I wasn't even a part of the film. Osman Khalid Butt was chosen to play my character but somehow things didn't work out for him and I auditioned for the part. I was found apt for the role and I landed the movie. That's how it happened. I proved myself for my part, it was no fluke.
Also I love being a part of Parwaaz. This one movie is going to show not only the beauty of Pakistan, but in a different light. We've shot at -25 degrees and things have flowed naturally, so it was an exciting experience, one I'll never forget.
HIP: Tell us about your character.
Ahad: I play a very hot headed cadet, that's how I like to refer to him. He considers himself a hot shot, he's a cool dude but you wouldn't want to tick him off because he gets annoyed easily. I enjoyed playing the part because it allowed me to showcase a very different character from what I have been doing so far.
HIP: So you like variety?
Ahad: Who doesn't. This year has been big for me, it has given me a chance to prove that I can do a lot of different things. My characters in Sammi and Yakeen Ka Safar are entirely different from one another.
In fact currently in Yakeen Ka Safar I'm seen playing a very carefree, fun loving dude but this character has a certain side to him that will eventually evolve. I hope the audience stays hooked to find out because Asfandyaar is going to translate into an entirely different person. You'll get to see the serious side of me and I'm sure that'll be appreciated.
I'm also very much interested in a drama that'll give me the opportunity to showcase my strength as an actor. Let's see how things develop for that.
HIP: What does the future hold for Ahad? Are you a legend in the making?
Ahad: At the moment, it's hard to say. I want to get better and better as an actor and I'm working hard for it. I'm trying to prove myself and stay positive. I can handle rejection very well, claiming I might not befit a part or there's someone who does. Acting is my passion and I intend to do it with all my might.
As far as legend in the making, there's a competition at home. And oh I love it so much. You should see my mother and grandmother talking and taking sides. My father has been tremendous on Muqabil, having taken up such a role, I wish I could do something like that some day. So yes, my grandmother is like "meray betay ka drama" and my mother is like "mere betay ka drama". We love it at home. It gives me inspiration and makes me want to be at least 90% like baba, if not entirely.