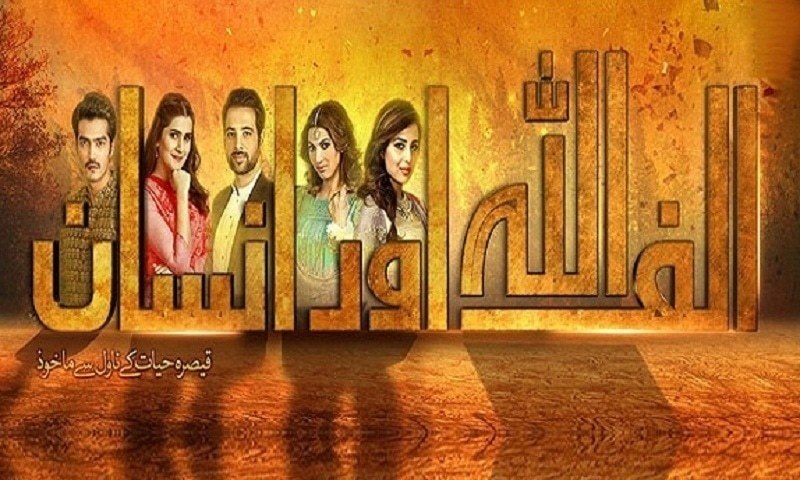 The drama has a new and gripping story, with actors packing a punch with their powerful performances.

Alif Allah aur Insaan is a play, the likes of which, don't come around so easily. Not only is the story new and gripping, the performances given by its star studded cast have left us in awe of their potential.
This week kicked off with Nigaar Begum, depressed. She still doesn't understand why Shahzeb does not love her back. Other courtesans try to cheer her up for her performance, and she trys her best since Shahzeb is in attendance. Kudos to Sana Fukher for portraying a courtesan so elegantly. The woman truly looks and feels the part but there's one glitch. She doesn't look apt paired against Mikaal Zulfiqar. The chemistry seems forced and Mikaal looks way too elegant to be found in a courtesan's room.
On the other hand there is Rani, who finally finds her way to Nigaar's place and tells her she wants to be with her for the rest of her life. Nigaar tells her she'll have to be stone hearted to do such a thing, as it would mean leaving her home and parents for good. She gives Rani Rs 5000, which stuns Rani, but she silently decides to be with Nigaar for the rest of her life, despite what society or her parents might think. Ushna Shah as Rani is phenomenal. Kudos to the girl for taking over such a crude role and shunning all the glitz and glam for a makeover that makes her look the part.
Imran Ashraf as Shamoo shines bright without even saying much. From expressions to dialogue delivery, we absolutely love his performance. Shammo's helplessness becomes crystal clear when Ustaad tells him he'll be selling off the shop for good.
Shahzeb and Nazneen are engaged, leaving Nazneen saddened by the fact that she is tied to him despite her will. Still, the prospect of going to the city for further education has heightened her hopes. Shahzad Sheikh as Basit still needs to evolve in his role. We know the actor has potential, but his character still needs development.
Read: Alif Allah Aur Insaan Highlights Powerful Performances