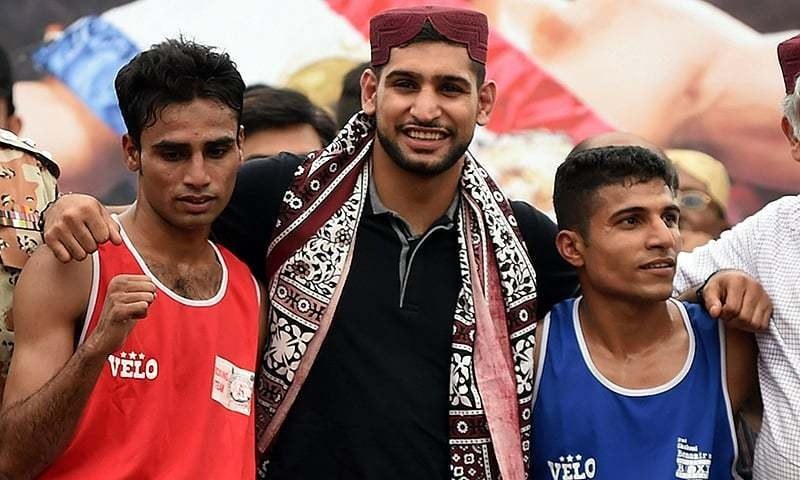 After the successful Orphan Aid charity event in London, where Amir joined hands with Shilpa Shetty to to make an impact on the plight of orphans within South East Asia, the boxer finds himself in Pakistan, where he is to visit the Amir Khan Boxing Academy in Islamabad. He will also be supporting Abrar-ul-Haq for his charity event for the Sahara Foundation on 20th May.
Yesterday, Amir posted on his Facebook page,
I am currently in Pakistan Islamabad. I will be attending my boxing academy tomorrow in Islamabad sports complex at 5pm. Media and Public invited. Watch the amir khan team train with me. Thanks you. Amir Khan.
Today, Amir will be appearing as the chief guest in a special training session of boxing at his Academy, in Islamabad, at 5 pm.
His first stop was Sohawa, Jehlum. He laid Foundation Stone for Private Complex, for poor people and orphan children in Sohawa. The Complex will be built on Sohawa, Jhelum road, on 32 Kanals of land with the collective collaboration of Penny Appeal, Apna Ghar and Amir Khan Foundation.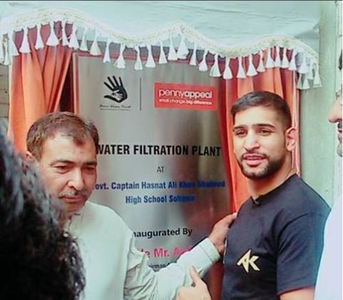 He mentioned that the people residing in the complex will be provided with basic necessities for free.
Within less than 24 hours spent in Pakistan, King Khan has inaugurated a water filtration plant at Government Capt. Hassanaat Ali Shaheed School. He also spent some time with the children of the orphanage, Mera Apna Ghar.
On 20th May, Amir Khan Foundation will be supporting Abrar-ul-Haq's Sahara Foundation for their combined event.