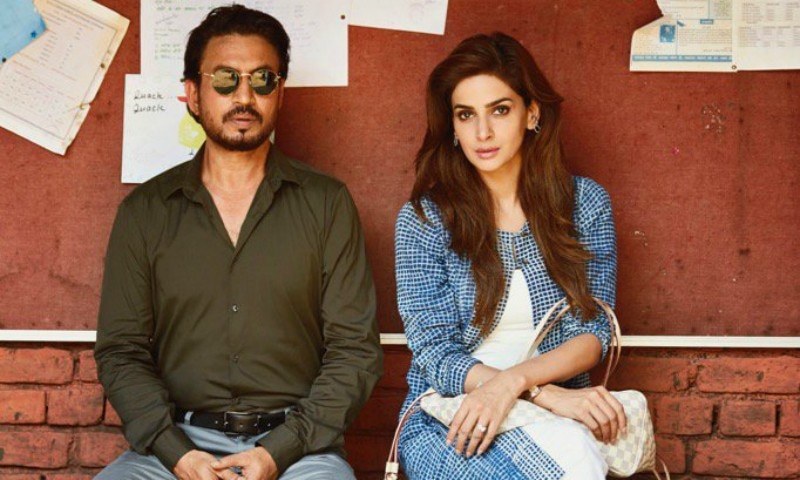 Just a day before the release of her Bolly debut, Saba Qamar speaks to HIP on her much-awaited film and what's next!

The raging Queen of local television, and now a B-Town starlet, Saba Qamar, gears up for her much-anticipated debut across the border with Hindi Medium, alongside acclaimed Hindi-film actor, Irrfan Khan, as the socio-comedy endeavour is all set to see the light of the day tomorrow!
Not having been able to take part in the promotional activities in India - an aftermath of the unfortunate Uri attacks last year, post which a ban was placed on Pakistani artists from working in Bollywood, Qamar has already began shooting for her next in Pakistan.
Starring as the protagonist in the late social media sensation and model, Qandeel Baloch's biopic, Baaghi and just on the verge of global dominance, Saba speaks with HIP exclusively from the sets of her controversial serial just a day before the release. Excerpts follow:
Also Read: Saba Qamar talks about 'Hindi Medium'
HIP: Your debut Bollywood film releases worldwide tomorrow. How does it feel?
Saba Qamar: I'm just very excited. A little nervous as well, mainly because I am my own work's biggest critic. I make sure I learn from the mistakes I make. Otherwise, a screening for the press has already been held and I've luckily been receiving such raving reviews. In fact, the film was also screened for the Education Minister of India in Delhi as well and even he's loved the film.
HIP: What are your expectations from the film's box office turnout?
SQ: Well I'm hoping it does well. Hindi Medium tackles with a very relevant and relatable subject. It's not a kind of film that appeals to a certain audience; it's a story of every household in the subcontinent. We've all been through this process. Also it's a family movie. I think there's a lot that children, parents and teachers will take back home, hopefully learning to be comfortable in their own skin.
Also Read: Saba Qamar was my first choice: Irrfan Khan
HIP: Tell us how much your character is in line with the spirit of the film - how language divides our society?
SQ: My character you see is a very enthusiastic about the classist culture and her fake social standing. Portraying her, what I've learnt and I hope others do too, is that we need to be content and happy with where we are and what we've achieved. We don't have to keep competing for everything.
So the film basically gives birth to a very pertinent debate that's been brushed under the carpet for far too long. If we as a society can accept the elitist ideas, then we are the ones who have the power to change it. On the sidelines, Hindi Medium is nothing short of hysterical, the first half made me laugh my lungs out when I was dubbing.
HIP: You recently revealed that you've already been roped in for three more Bollywood films. What's your take on political instability affecting art?
SQ: To begin with, a war or constant fighting can bring about no good to any of the two nations. It isn't the solution. I'm a very loving person, a genuine glad bearer of peace. I guess artists are just an easier target.
As far as cinema is concerned, Bollywood is an established industry in terms of production and equipment. Our film fraternity has a long way to go. We are still starting off, experimenting, some of which is working and some isn't. So at the given stage, we can't deny the fact that we do need Indian cinema, and they need gifted actors from this side of the border. Why can't we simply work together and create havoc on the silver screen?
Also Read: Saba Qamar dares to play Qandeel Baloch
HIP: Right after Hindi Medium we'll be seeing you on our television screens with the Qandeel Baloch biopic. Do you think the controversy was inevitable?
SQ: Baaghi isn't your conventional day-to-day soap. You simply can't judge a book by its cover. We are not trying to glorify or even criticise Qandeel. We need to have our moral values straight. By now, I think people should also know that I would never opt for something that is vulgar or puts across an irrelevant or incorrect message.
I'm deeply saddened by the sudden demise of Edhi Sahab and Junaid Jamshed, but they weren't victims of honour killing. I hope we have biopics that narrate their inspirational stories as well, but with Baaghi we are trying to do something completely different.
I know all these people criticising will be watching the serial as well, because these were the same people who responded the most on that one picture I posted announcing the biopic on Instagram. The same people who made Qandeel what she was because of their attention, likes and comments. And it's simply inhuman to say that Qandeel's murder was justified. Our society made her who she was.
HIP: Lastly, do you think the fact that you are now a Bollywood actress has changed people's perspectives?
SQ: I have stopped caring about any of that. I just want to bring something worthwhile to the table. Something that connects with me, something that is able to convince me. Regardless of where and what medium, I want my performances and projects to move its viewers. Leaving a lasting impact. Even with the projects that I have lined up after Baaghi, they're all extremely entertaining, while educating the audiences along the way. That is all I aspire to do now.