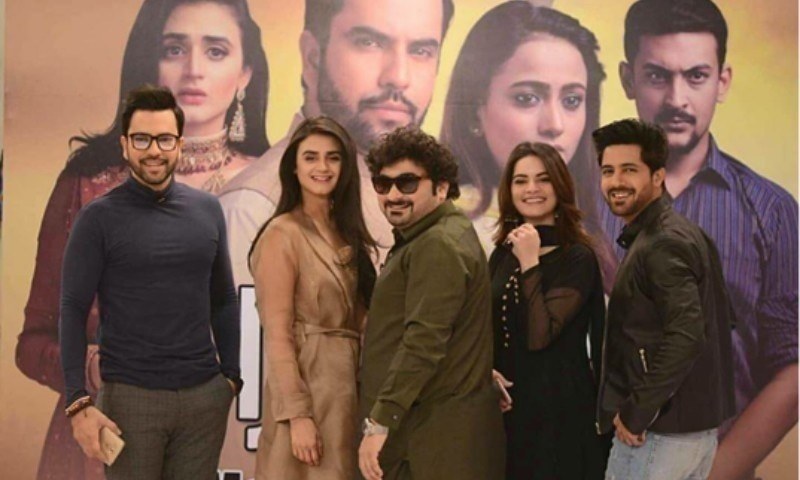 Direction by Nawaz and the script by Asiya Mirza makes Sun Yaara our Monday favorite.

No matter how many plays air on Monday night, we always find ourselves watching Sun Yaara. This is a drama that focuses on the beautiful relationships that exist in a family, whether it is a bond between mother and daughter or daughter-in-law and mother-in-law, the script penned down by Asia Mirza and the superb acting keeps us hooked to the serial, week after week.
Having been on air for the past 21 weeks, last night we were excited to see Lali (Xarnish Khan) and Mustafa (Hassan Niazi) finally tie the knot. But where we'd hoped Lali would mellow down a bit, since it was their first day as a married couple, she makes it quite clear to Mustafa that she only married him because she had no other choice.
Read : Review: Will Mustafa Finally Marry Lali In Sun Yaara?
Disappointing Mustafa and us, the one thing that makes us love Sun Yaara is that even though Lali is not fond of Mustafa, she doesn't take the anger out on Bi Jaan (Durdana Butt), treating her with love and respect, which is how it should be. It conveys the message that no matter what differences you may face, one shouldn't disrespect their elders.
Mustafa is madly in love with Lali, he gives her the space she needs and welcomes her son with open arms. When the son refers to Mustafa as Baba, our heart skipped a beat, proving that not everyone is like Saif (Faris Shafi), who never even got in touch with his son.
Read : Family ties & love is what keeps Sun Yara on our must watch list
But with Lali married, Saif wants to be a part of his son's life. Somehow the scenes involving Saif and his family are not very interesting, probably because we enjoy scenes between Mustafa and Lali's families, as they are light hearted and the perfect image of the 'ideal family'.
Roshni (Hira Mani) is upset with Talal (Junaid Khan) so she decides to delay the rukhsati for the time being and wants to avoid telling her Dado (Samina Ahmed). But with Talal all set to go and asking her that very question, next week's episode will give us a hint of what trouble will rise in Roshni and Talal's love life.
Direction by Danish Nawaz continues to impress and because of Sun Yaara, we look forward to seeing more plays directed by him in the future. An actor that deserves praise is Hassan Niazi, who has a brilliant body of work behind him. He is one of the few celebrities in the industry who is naturally gifted and can make any role look tailor made to him. Accompanying him is Xarnish Khan, who is wonderful as Lali. In fact, all the actors bring something special to Sun Yaara, which makes this particular play our Monday favorite.
So don't forget to tune in on Mondays at 8 pm only on Ary Digital, to see whether Lali and Talal end up staying happily married or not.