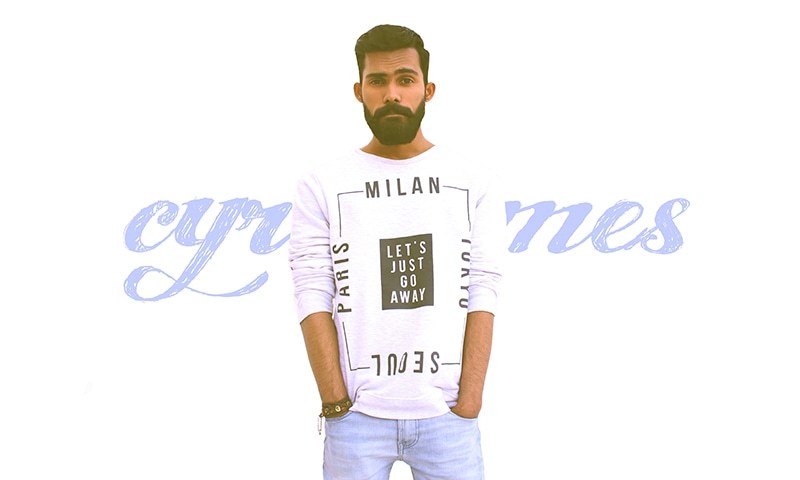 James is one of the 16 finalists to have been short-listed for the dance competition in Malta.

Beat It, the revolutionary Dance Contest by Red Bull, invites dancers to have fun and demonstrate their creativity. This year's competition saw Pakistan's first ever competitor to have taken part at the international dance event; Cyril James. HIP got in touch with the artist to bring you an intricate exclusive revolving around his most recent experience, making Pakistan proud, how the inspiration to dance came about and much more.
HIP: Firstly, how did it feel getting through to the top 16?
I still can't really believe that it has happened, actually. For a boy from a small neighbourhood like Mehmoodabad who used to secretly practice in churches and abandoned parks with his friend, Asad Liberious (R.I.P), this really is no less than a miracle. To be honest, I always was sure this day would come because my imagination is very focused and vivid, but nevertheless, when something you dream about for 9 - 10 years becomes a reality, it's a whole new feeling of glory!
We had people from all over the world come for the auditions; places like Romania, UK, USA, Russia, Serbia, Malta, etc, so at first it did feel like I wasn't going to get selected. I was super nervous, had about 4 red bull drinks just because of that. But when I entered all I cared about was to live that moment for my people back home in Pakistan. I am officially the first ever Pakistani participant and finalist in a world renowned dance championship which luckily happens to Red Bull Beat It, the cherry on top of the cake!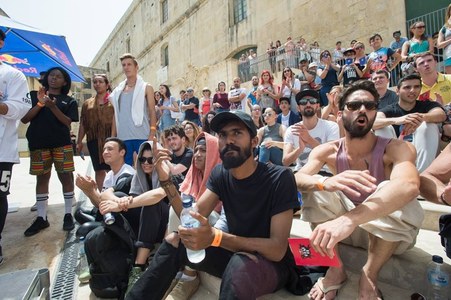 HIP: How would you describe your dance style to our readers?
I would describe my dance style as ever-evolving, ever-changing. I don't like labels. A lot of dancers these days, probably 99% have a specific dance form they follow and would not do anything else.
In an age where Bollywood and Classical dance are still the dominant dance forms in Pakistan, it is ironic that the first Pakistani ever to be one of the top 16 in a world championship is not a Bollywood or Classical dancer. So yes, I would describe my dance style as everything that inspires me, I have performed Bharatanatyam, Orissi, Modern Contemporary, Experimental Contemporary, Bollywood, Jazz, Bhangra, Krump, Bboying, Commercial Hip Hop, Urban Dance and even practiced Ballet in Europe, but when it comes to my dance styles, it's not limited to these labels. I do what I feel like.
HIP: When did you start dancing and what compelled you to do it?
It all got really serious back in 2008. I was attending religion classes in a nearby church where I made a great friend, Asad Liberious (R.I.P). He was a b-boy (a break boy), commonly known as 'breakdancer' and we started practicing together. He inspired me back then and he still inspires me in spirit. I was really influenced by him and used to copy him in the early years. Sometimes I am really ridiculed and criticized for not having Michael Jackson as my inspiration instead. I love him and I respect him but I am not a huge fan of his dance style. What dancers across the world need to understand is that it's okay not have the same school of thought. MJ is an extraordinary dancer and I probably can not reach his execution level and his technique but the truth is, no one has to reach that level. I am more inspired by Fred Astaire, Ian Eastwood, Wayde and Anthony Lee.
HIP: Was dance a passion from the start or was it something you discovered overtime?
I truly found dance when I was about 13. The students in the school liked my dancing but I started getting bullied less. I kept practicing with my church friends, it was all fun and it looked cool so I did it but I realized very quickly that this was not just fun and games because in about the same year I really started expressing myself through it.
I won a few championships in Pakistan too like Denizen Dance Challenge and ActOne Planet Bboy which I won 3 years in a row. I started getting featured on radio shows like fm91 and 107 whenever I would win anything big but I'm very lucky that I understood what dance meant to me very quickly. Now, in this very moment, it's who I am. It's not what I do or it's not my hobby.
I think it is my purpose to touch people's lives through my movements. A lot of Pakistani magazines and media channels will not care about any world championship getting it's first Pakistani dancer but truly, it's okay. If I start dancing for such media and news channels, I'll reach nowhere in life. Huge shout out to Hip In Pakistan for caring about the impact my story can make in Pakistan and the world.
HIP: Why hip-hop?
I have always been influenced by the Hip Hop culture. The clothing, the dance, the music, the art, everything from this culture is inspirational and creative. I love creativity.
Moreover, I think because of this I've always attracted people who somewhat have the same influence. Hip Hop is very misunderstood these days. Ever since music videos repeatedly started showing expensive cars, nudity, drugs and money in Hip Hop songs, people started viewing the culture as something negative. It's actually not. It is just way of selling for huge music labels. Everything negative that you see in these videos is from the business culture or trap music culture, not Hip Hop culture. Hip Hop is a culture which represents free expression in the most non-violent forms, dance and rap battles instead of fights and wars, graffiti to mark territory or to spark critical thinking, djing to creatively mix music and have fun. It's a way of life if you know how to live it.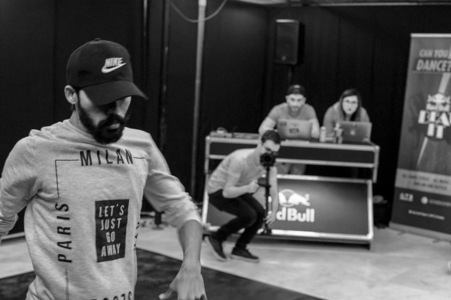 HIP: Being the founder of a dance school, what message would you like to give across to our youth if they want to master a certain craft?
Being the founder of the School of Urban Movement (SUM) and a dancer myself, I can understand the highs and lows an artist goes through so the best message I can give to the youth to master a craft is to stop trying to master it. Bruce Lee says the best path is no path. I need you to really think. The youth needs to really think about what goes on around them and understand that individuality is key! Don't give up but remember to not give in too. Be different, be an outcast.
Today, in Pakistan, you will meet lots and lots of self righteous choreographers and dancers who would want to mold you and control the way you dance and give you a so-called verbal syllabus. Don't listen to anyone who tells you they can make your life better because that authority only lies with you. I think being a dancer and a film maker too, I can see certain film makers, like Jami Mehmood and Sharmeen Obaid Chinoy break through the traditional way and look how much Pakistan has benefited from them. I've seen dancers from almost all the great countries and trust me when I say this, Pakistani dancers are as good as anybody else. Pakistan is next on the global dance scene and I'm a living example. The curse has been broken. This is the perfect time for Pakistani dancers to break the barriers and just explore themselves as dancers. This is the time they don't give up!
HIP: Do you think art is diminishing or flourishing in Pakistan?
Art is our culture. I think now it is really flourishing in our country but then again, not all forms of art. Painting, singing, music has always been encouraged, dance however, has been left labelled as a red light activity. I truly feel for the people who dance secretly. The fact that the statement "dance has no scope in Pakistan" still is a common one in our country is not just sad but poisonous. What's ironic is if medicine and science have a scope in Pakistan, why do Pakistani doctors and scientists study and work abroad? We become what we think. I would not say art is diminishing in Pakistan but I would say that Pakistan has some of the best artistes in the world which is why as a society, we must change our mindsets.
HIP: Have you ever received criticism on Hip-hop not being representative of Pakistan? What do you say to that?
Hip Hop is in fact one the strongest representative's of Pakistan across the globe. Did you know that Bohemia, who the world calls the king of Punjabi rap or sometimes the Eminem of Desi Hip Hop, is from Karachi? He has even worked in Bollywood alongside Akshay Kumar in Chandni Chowk to China. Another globally famous name is Lazarus, who has frequently worked with Eminem's rap crew D12, is from Pakistan as well. One of the most well respected graffiti artistes in Pakistan, Sanki King, is a member of 2 globally famous graffiti crews known as ExVandals and BMK (USA) and his work was featured in Nicholas Granz's book 'Street Messages' alongside other well known works. Just recently 4 Pakistani rappers, Xpolymer Dar, Hashim Nawaz, Dei Killuminati and Osama Com Laude represented Pakistan at Team BackPack which is probably the biggest platform for underground rappers in the world! It's all over YouTube and Facebook.
Yes, Hip Hop might not be a cultural representation of our country but that's because it is not our culture, it is a way to represent our culture and our desi roots. I was so happy when I wore a black kurta to the Red Bull Beat It finals! I got so much appreciation, respect and love through Facebook and Instagram messages from the people of Pakistan. I'm very grateful!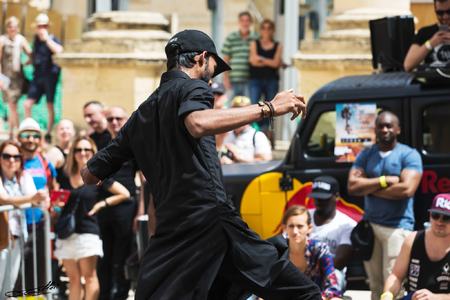 HIP: Describe the process of getting shortlisted for Beat It. How was the experience and what did you take away from the competition?
To be honest, I really could not believe my eyes when I first entered the audition venue. I mean, they had the television playing Bboy Lilou's Beat It battles, they had the stickers, the flyers, the registration forms and the exact DJ panel that I used to watch in the YouTube videos. I was super nervous, yes. What's crazy is that I had never been nervous before dancing. Never. I mean, I have given numerous dance workshops all over Pakistan, did so many solo shows, been in music videos and worked with so many artistes but this was the first time ever I was nervous before my dance.
Now I understand why. I was so focused on doing great because my people back home had expectations and I was the first ever to represent Pakistan in the international dance scene especially Red Bull which is literally the big leagues for dancers all over the world. But surprisingly, when I entered the audition room I became really calm and I just closed my eyes and recalled where I come from, those congested streets and how I came here. Everything fell into place after that.
The whole experience of Red Bull Beat It, which is still ongoing is crazy. This is one thing I really want to talk about to Pakistani dancers in detail. It's an experience like no other when you see your dreams manifesting themselves. That adrenaline rush mixed with immense power is amazing! I live it every day with the friends I made through the competition.
But I want people to know the other side of this too. When you reach such a stage where you have set yourself apart from the others who doubted you, humble yourself because even if you're a king, there will always be struggles. What I've learnt from Beat It is not just how to dance or how to execute, but a lot more. I've learnt that no dancer is the best, no one is the worst. I've learnt the importance of having fun while dancing. I've learnt that dreams come true if you keep at it. Persistence is everything there is to it. I've learnt that no matter where you come from, you can always end up somewhere else. I've learnt that dancers all over the world are the same and are always loving. I've learnt that if it's not sports, politics or bollywood, Pakistani people do not really care about it. But most importantly, I've learnt that at the end of the day, nothing you have or achieve will matter but only the love you have given to the world. You will die, your achievements will be forgotten, your money will be used but the love you give to people will leave the world a better place than you found it.