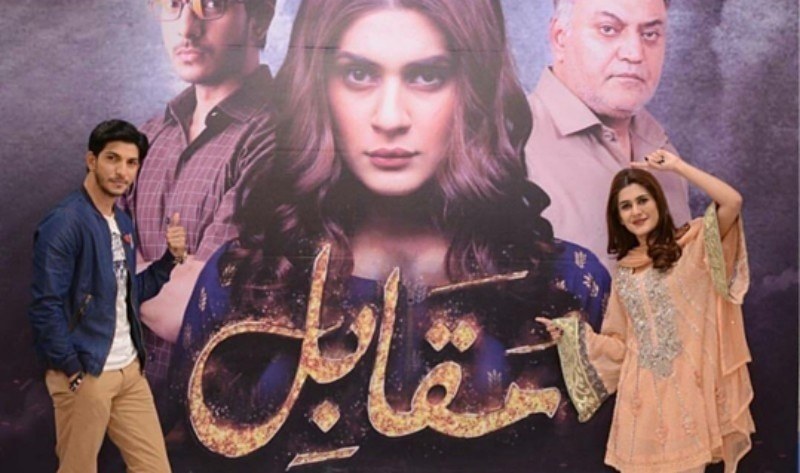 Ever since Muqabil began we have been following it religiously, mainly because of its interesting story, penned by Zafar Mairaj and directed by Ali Hassan. Mohsin Abbas Haider and Kubra Khan impressed us from the beginning and of course Asif Raza Mir is a legend, so to see him weekly was a treat. Last night, the much loved play finally came to an end. While we will be sad we won't get to see such a meaningful story anytime soon, the ending did manage to make us smile. So let's recap on all that took place in the final episode of Muqabil yesterday.
Armaan (Mohsin Abbas Haider) is caught in a daze and wants to marry Sara so he can finally get Pareesa (Kubra Khan) out of his head. He has a change of heart when he goes to Sara's house and tells her that he can't marry her, causing her to go mad, since she had agreed to marry him for his sake! Mehmood sahab (Asif Raza Mir) had killed himself previously, so Armaan's mother is no longer a loud mouth. The shock of discovering the filth her husband was involved in has mellowed her down. In fact where she always hated taking money from Shehnaz (Saba Hamid) due to her pride, this time she made no fuss and took her husband's pay upon the insistence of her daughter.
Read : ARY Digital's 'Muqabil' is intelligently scripted & beautifully executed!
With Pareesa all set to go abroad, her mother is unhappy, as the guilt she has inside of her for not being there for her daughter when she needed her most, makes her withdraw herself from all social events. But Pareesa, having a heart of gold, encourages her mother to get back to doing what she loves, telling her she has nothing against her. Before Pareesa decides to leave, she holds a press conference where she educates people about the warning signs of a child who is being sexually abused. We thought was incorporated quite well in the script.
Pareesa's parents and brother stand by her side during the long scene, which was perhaps the highlight of the episode. We were happy to see someone making an effort to highlight the signs of sexual abuse, which is on the rise in our country.
Coming back to the episode, what we liked was Pareesa getting over her fears and deciding to get back with Armaan, who in her diary has written a beautiful message, that she reads while coming to the house to pick up her stuff before heading abroad. Armaan was seen watering her plants, and we couldn't help but gush when she lets him hold her hand.
Read : Asif Raza Mir And Kubra Khan Make Muqabil A Must Watch
Hence, Muqabil ended on a good note. Hats off to the entire team that worked on the drama for working on a project which dealt with a sensitive issue with a lot of grace. We loved Asif Raza Mir as Mehmood sahab. What's more is we discovered the superb acting of Mohsin Abbas Haider. With a director like Ali Hassan, who gave some memorable shots in the drama, we are excited to see more plays directed by a talent like him in the near future.
Lastly we have to say, Muqabil has been an incredible journey and Tuesdays will never be the same without it!