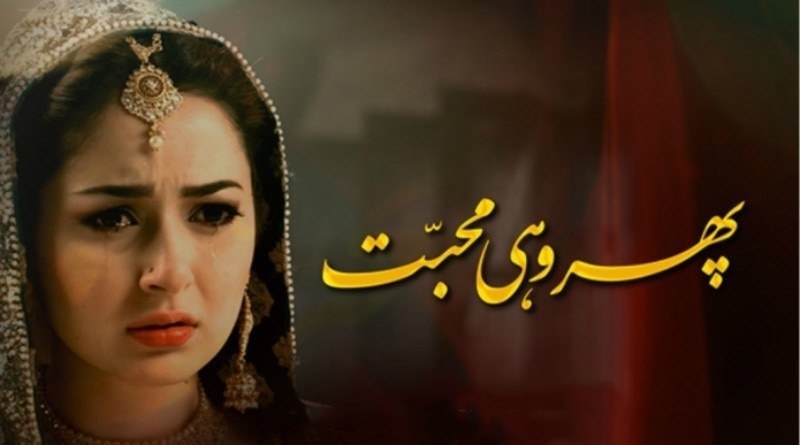 The acting is done well by Hania Amir and Ahmed Ali, but the fault lies in the story line.

Hum TV is known to have aired some amazing plays in the past; Humsafar, Zindagi Gulzar Hai and the recent Sang-e-Mar Mar to name a few. Having taken over the slot when Sang-e-Mar Mar finished, Phir Wohi Mohabbat, staring Hania Amir and Ahmed Ali, had an interesting build up, but eleven episodes down the drama offers nothing exciting, discouraging us from keeping up.
The story seems predictable due to certain events. Alishba (Hania Amir), ends up marrying Waleed (Ahmed Ali) much to the disappointment of his mother who despite being Alishba's real khala, is not fond of her. That mean streak is beginning to show in every move she makes, which makes us predict that future episodes will be typical saas-bahu drama that we're so tired of encountering.
Read : Watch Phir Wohi Mohabbat for Hania Amir
Having begun on a positive note, the script penned by Mansoor Saeed and directed by Mohsin Mirza, held our interest from the get go, as the story looked interesting. Alishba was kidnapped by a trusted servant, because her father accidentally killed the servant's wife and child. The play had us on edge, especially when after many years, Alishba realizes she doesn't belong to a poor man's family but rather a well off one.
As the drama progressed, it was wonderful to see Harris Waheed be part of the project as Shehryar, who is Waleed's friend and in love with Alishba. But with Waleed about to marry Sana while being in love with Alishba, he decides not to go through with the wedding by confessing he loved Alishba, which obviously angers Shehryar.
Since the family comprises of a dadi (Shameem Halali), Alishba's parents, played by Shamoon Abbasi and Zainab Qayyum and Waleed's parents, Salma Hassan and Shammayal, they are a big close-knit family until Waleed's latest confession. Though Alishba's mother is very pleased and somehow the duo end up getting married.
Now with the duo together, last nights episode offered nothing new except that dadi passes away and now the head of the family is Samra (Zainab Qayyum), which further annoys her sister who is married to her husband's younger brother.
With tensions flying high, Waleed's mother takes a new approach and decides to tell him she was no longer upset with him for marrying Alishba, although the expression on her face tells another story. Will Alishba and Waleed live happily ever after? Will his mother make sure that the marriage doesn't last for long? All this is what we hope to find out soon.
Hania Amir is a delight to watch. Besides being a naturally gifted actress, we loved her expressions when Ahmed Ali compliments her. But are the lead actors enough to save the story? Unfortunately no, but since the play is relatively new, we're hoping the coming episodes will be far more engaging.
In case you missed Phir Wohi Mohabbat, do check it out every Thursday at 8 pm on Hum TV.