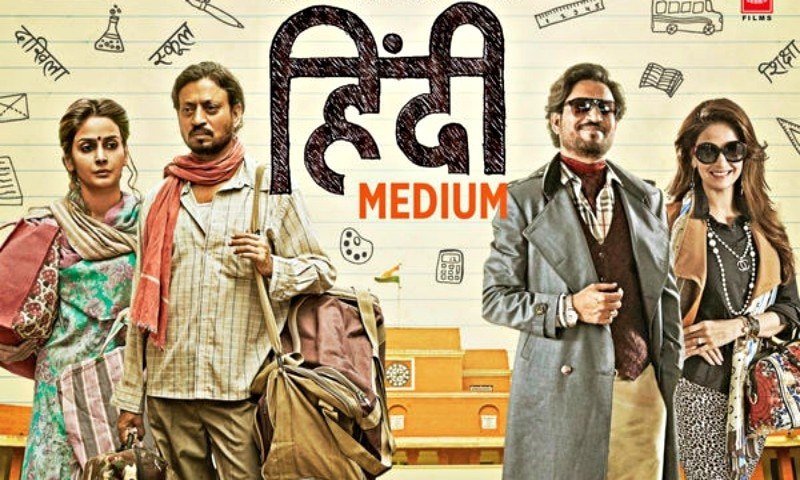 The actress celebrated her Bolly debut's success on the sets of her next, 'Baaghi'.

Riding high on the success of her debut Bollywood film, Hindi Medium, possibly the most talented actress of the current generation, Saba Qamar seems more dedicated and passionate about her craft than ever. After receiving raving reviews from critics in Pakistan and India alike, Qamar's film has also fared well at the box office in its first week.
HIP got a hold of the raging queen, who held her own against Irrfan Khan in the film, amidst the frenzy and she seemed triumphed to say the least. "I knew the subject was relevant and relatable, but such massive response has exceeded my expectations," she shared from the sets of her next in Karachi.
"I was confident about my own people (from Pakistan) but, people across the border are very clear and straightforward about their opinions, them welcoming me with such warmth has truly been overwhelming," she says with a great amount of joy. "Every single person who's seen Hindi Medium has nothing but great things to say. I'm quite honestly touched."
Also Read: 'Hindi Medium' gives birth to a very pertinent debate: Saba Qamar
To celebrate the coupe, Saba's co-star, Khalid Malik and the crew from her highly-anticipated upcoming serial, Baaghi - Qandeel Baloch's biopic, surprised the starlet on set with a cake. "I was actually called for a scene and the scorching heat were killing me, but when I entered the room, there was a cake and the entire team was there," she chuckles. "I think it was very kind of them to have organized that, I was left speechless."
While ascendancy can be an outcome of such fleeting rise to international stardom, Saba truly has no starry airs and sees Hindi Medium's critical and commercial success as a challenge to outdo her own-self with her next acting stint, Baaghi. According to her,
"I don't feel like a global star, in fact I feel like working even harder. There's more pressure to perform now. I am nervous, yet enthusiastic because I know I need to take my professional decisions very carefully now. With Baaghi, I'm focusing even more because now people can't expect anything substandard from me."
Also Read: HIP Reviews: Saba Qamar shines bright as Mita in 'Hindi Medium'
While Saba is currently looking inwards with another unconventional serial lined up after the completion of Baaghi's production, she says she has also been receiving multiple offers from B-Town and has already signed not one, not two, but three films across the border with industry bigwigs.
"After the release of Hindi Medium, I've had so many acclaimed directors coming to me with scripts and they're all offering me such amazing stuff," she shared. "I'm actually going through a few scripts currently, but I don't want to jump into anything and compromise, particularly the script and the team."
On a parting note, she credited the producers of Hindi Medium for its success. "I think producers, Dinesh Vijan and Sharada Karki of Madock Films and Bushan Kumar of T-Series' relentless contributions have made Hindi Medium what it is today. At the end of the day, it's all about team work." And we cannot agree more.