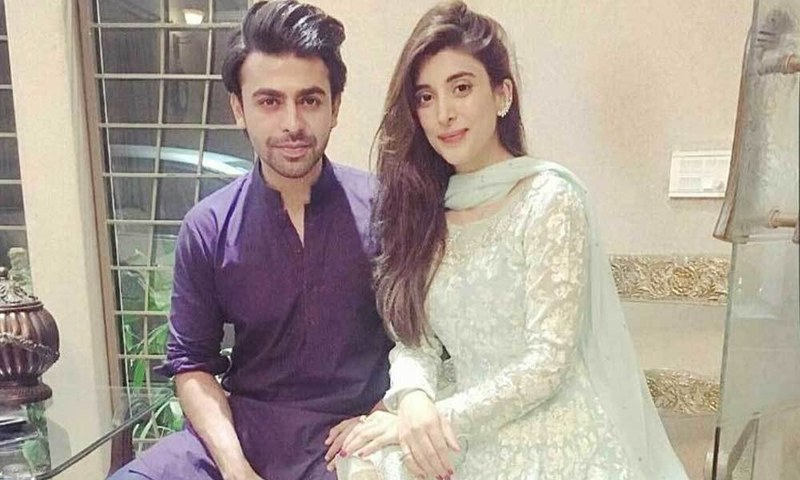 The real-life lovebirds will be seen creating magic in reel-life with their upcoming Eid telefilm.

After their chartbusting serial together, Udaari, the real-life lovebirds, Urwa Hocane and Farhan Saeed are now all set to show-off their envious chemistry on-reel with upcoming Eid-ul-Fitr telefilm. Produced under the banners of Sana Shahnawaz and Samina Humayun's Next Level Entertainment and Humayun Saeed and and Shehzad Nasib's Six Sigma - like all Eid specials, is a family-drama with an ensemble star cast.
Directed by Pyaaray Afzal and Jawani Phir Nahi Ani-famed director, Nadeem Baig and written by Faiza Iftikhar of Dillagi, Aunn Zara and Roag, the untitled TV film will also feature veterans, Saba Hamid and Asif Raza Mir, and yesteryear model-turned-actress, Iffat Umer alongside Hocane and Saeed in titular roles.
To find out more details about the project, we got a hold of Baig, who revealed that the script happens to be its strength. "It's a very funny play and comedy is something I enjoy doing. Be it films or television, what makes me take up a certain project is its script," the director stated. "Faiza, I feel is a writer who has a knack for romance, drama and comedy at the same time."
Also Read: Punjab Nahi Jaungi Teaser Is Out & We Can't Help Falling In Love
While Urwa and Farhan have previously been seen in intense-romantic drama serials, Nadeem argues that the two will be seen on-screen like never before. "It's completely different from what they've done previously. It's a story of modern times, very contemporary," he disclosed. "Farhan has never done such a character before and I was pleasantly surprised to see how well he's performed."
Speaking of Hocane, whom Baig also directed in upcoming film, Punjab Nahi Jaungi, the director was all praises for the starlet. "Urwa, I think has great potential to do various roles. I found her to do be amazing in Punjab Nahi Jaungi. She looked pretty and did justice to the character," he maintains. "I believe in characters that have to say there something, they must bring their own humor and Urwa has brought her characters to life."
Revolving around a young couple who struggle to get hitched, but their families oppose, we feel the plot has nothing out of the ordinary to offer and surprisingly enough, Nadeem agrees. "Stories are always conventional; it's the screenplay that makes it different. All the films or dramas one comes across, you feel you've all seen it before," he responds.
"For instance, before Jawani Phir Nahi Ani released, comparisons were being drawn to a number of Indian films, but those perceptions changed once it came out. I feel it's all about how a story is written," Baig adds.
Also Read: HIP wishes hit machine Nadeem Baig a very happy birthday!
According to co-producer, Sana Shahnawaz, "I have adored Nadeem and Faiza ever since Dillag and it gives me great pleasure to be producing something that brings the two together. Along with a stellar cast, I think the script is hilarious and on the whole it's a project that will manage to entertain all this Eid."
Speaking of comedies in general, which now seem to be Nadeem's forte, he says that he looks for logic even with commercially viable projects like his debut cinematic directorial. "I take storytelling very seriously. I feel that's the difference between us and India, we can't accept shallow comedies."
"We need to have different situations, timing and characters. Our audience is probably more intelligent, I feel they need realism. In Pakistan, we can't take our audience for a ride," he concludes, while revealing that he is currently working on Punjab Nahi Jaungi's post-production, while Jawani Phir Nahi Ani's sequel is slated to go on-floors later this month.